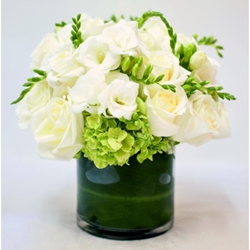 When it comes to DIY flower arranging, much has been written and many videos made. But it always boils down to personal preferences and taste.
New York, NY (PRWEB) July 31, 2017
Gabriela Wakeham Floral Design (https://www.gabrielawakeham.com), a luxury florist Chelsea NYC, offers some timely flower care tips for summer. With many flowers fresh cut from home gardens during this time of year, it is an ideal moment to go over the best practices for cut flower care. It might sound obvious, but fresh water is most important. Always change water every 1-2 days for cut flowers. As you change the water, you can also re-cut the bottom of each stem to help extend flower life. It might take a couple of extra minutes, but when your flowers look better longer, it will be worth every second of your time.
When you are preparing your cut flowers to place in a vase initially, cut the stems at an angle to help increase water absorption. This might again sound like a small detail, but it ultimately can help extend flower life. "When it comes to DIY flower arranging, much has been written and many videos made. But it always boils down to personal preferences and taste," said Gabriela Wakeham. "No two people see color and style alike. The most beautiful flowers are always unique. Of course, respect the essentials of balance and composition, but let your creativity flow. Your home is one of the most personal parts of your world, and the flowers inside it should be a reflection of you, and what you love."
Careful Placement of Cut Flowers Indoors is Important: Cool Spots are Best; Avoid Direct Sunlight and Heat Sources Such as Lights
If you've ever noticed while inside a florist shop, flowers are often kept under refrigeration. Cooler temperatures undoubtedly extend the life of cut flowers. But at home you want your flowers on view – not in the refrigerator! A little ingenuity in selecting cooler spots for indoor flower placement can make a big difference. Also keep them away from heat sources. A significant hazard for shortening the life of flowers can be hot lights, especially spotlights and super-hot halogen bulbs. When placing your flowers indoors, keep lights in mind and place them as far as possible from hot lights.
Do 'Flower Preservatives' Work? Should I Add Anything to the Water?
"There are a number of popular theories about adding one thing or another to water to extend the life of cut flowers," said Wakeham. "There also are commercially produced additives making claims about extending the life of cut flowers. In our experience, changing the water after 1-2 days, re-cutting the stems if you are willing to invest the time and effort, and keeping flowers away from heat sources are most important," she continued. "Like many of you, we have tried home remedies and commercial products. In our experience, none of these has produced a dramatic improvement. Also, we have been interested to read a couple of studies posted online recently comparing results of various additives versus plain water. So far what we read coincides with our own experience which is that we have not observed any of these making a meaningful improvement."
Our Mission is to Offer the Freshest Flowers Delivered Same-Day in NYC
As professional florists offering flower delivery NYC, Gabriela Wakeham Floral Design takes great care in individually selecting each stem fresh from market every morning. Our designers then prep and condition each flower before placing it into an arrangement. This approach helps our flowers be longer lasting, especially when placed and cared for carefully. With an emphasis on the finest orchids, calla lilies, roses and seasonal flowers such as peonies, tulips, hyacinths and irises, we hand craft each arrangement. Our designers work in small batches and we know our clients. This approach helps us earn five-star reviews and build a satisfied and loyal group of NYC flower loving clients.
We take great pride in designing in a range of aesthetics from classic to modern. Our flowers make great gifts for birthday, anniversary, thank you, congratulations, romance, friendship, get well and sympathy. Whether you need a monochromatic contemporary floral arrangement or a classic multi-color bouquet we have the design range as an authentic Manhattan florist. Upper East Side delivery to fine residences along Fifth Avenue and Park Avenue is also among our specialties. To these fine homes, we offer luxury weekly flower delivery with the highest level of attention to quality and detail.
A Complete Range of NYC Corporate Floral Services Including Event Design in Manhattan and Event Flowers
We also specialize in weekly flower delivery to corporate, retail and hospitality sector clients including hotels and restaurants. Complimentary site visits and design consultations are available. We can create weekly flowers in both modern and class is aesthetics, and to complement any interior environment. Event design and event flowers in NYC are also available. Our designers have produced events in every major venue in the New York City metro area, and we also are available to design exceptional personal celebrations. Our commitment to quality is unwavering and we conscientiously source the finest flowers, greens and living sustainable plants.
A Local Master Florist Delivering in New York City With Better Flowers and Better Design
Gabriela Wakeham Floral Design is a high-end local florist delivering in New York City. Founded in Tribeca in 2009, it today delivers luxury flowers in Manhattan as far north as 135th Street, as well as to Williamsburg. Long Island City, Dumbo, Astoria and Brooklyn Heights. While the current service territory has been expanded significantly, the company continues to place an emphasis on its original downtown neighborhoods. It specializes in flower delivery to Tribeca, Soho, Hudson Square, West Village, Wall Street, lower Manhattan, Lower East Side and Battery Park City. With approximately 75 exclusive floral arrangements featured in its online flower shop, Gabriela Wakeham is a leading boutique florist in New York City.