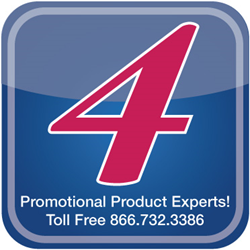 Essex, Ct (PRWEB) June 17, 2015
According to a 2014 study by Statista.com the most popular holiday to grill is the Fourth of July. With the big summer holiday just around the corner it's time to start shopping. Grilling for family and friends doesn't have to break the bank. 4AllPromos.com has plenty of promotional and custom imprinted grilling accessories and products to help customers save as well.
A June 3, 2015 article in U.S. News & World Report Money titled "7 Ways to Save on Your Summer Barbecue" shares some helpful tips. The tips include choosing a basic charcoal grill over gas because it saves on fuel costs to keeping the lid closed to conserve energy. Grilling tools can also be sold at a premium so try looking in the kitchen first before buying fancy grilling accessories. Get creative with side dishes and grill veggies such as potatoes, zucchini or corn to serve alongside those hamburgers and hot dogs. Tell friends and family to bring sides too. Pot luck picnics are a great way to save money. Assign everyone a side dish, dessert or paper product to bring.
Another way to save on summer barbecues is to order promotional and custom imprinted products from 4AllPromos.com 4AllPromos is the leading online marketer of promotional and custom imprinted products for businesses, schools, non-profits and special events. Prepare customers for safe and tasty grilling all summer long with products such as aprons, portable grills, grilling utensils, tableware, gourmet treats and more. Having a family reunion? Make is barbecue themed and print custom t-shirts, hats or sweatshirts. Host a barbecue competition and promote the event or the secret sauce with promotional products.
Barbecue is big business in the United States. The website Statista.com also shows that between January 2013 and March 2014 approximately 24,000 Americans used at least one bottle of barbecue sauce within a 30-day period. Promotional and custom imprinted products can help grill masters get the leg up on the competitors.
For more ideas on how to host a successful and scrumptious summer barbecue and to view more promotional and custom imprinted products visit http://www.4AllPromos.com