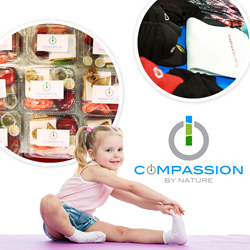 Denver, CO (PRWEB) June 12, 2014
Health supplement and lifestyle innovator Bamboo Nutra LLC is proud to deliver some much needed Compassion By Nature to Mexico with their participation in the CEA (Campamento de Evoulción Atletica – Athletic Evolution Camp) Summer Fit Camp to be held in Nuevo Vallarta, Mexico. CEA's membership-based annual Summer Camp is available for kids ages 4-13, however, this year, Bamboo Nutra has been able to introduce a special dynamic, opening the doors for local orphans to share in the summer of fun, fitness and nutrition.
The Summer Fit Camp will run from July 14th to August 15th, and will welcome children from numerous regional orphanages and shelters, such as: Casa Hogar Máximo Cornejo (Máximo Cornejo Group Home), Refugio Infantil Santa Esperanza – RISE (Children's Shelter of Hope), Nueva Vida (New Life), and Manos de Amor Por Bahia (Hands of Love for the Bay).
"It is such an honor to be able to inaugurate the 2014 summer fit camp with Bamboo Nutra by our side, along with all the great people that come together to make (the Summer Camp) possible," said CEA's Athletic Director Eduardo Figueroa. "The kids we now have the privilege to work with this summer are truly in need of every bit of support we can offer. We feel we have a responsibility to the kids and to our community to make this an unforgettable summer for them and a memory that lasts a lifetime."
Bamboo Nutra and CEA personnel will direct the summer camp alongside a group of 12 licensed mentors to include: fitness professionals, nutritionists, and psychologists.
The primary objective of the Summer Camp with relation to the orphans is Health and Wellness education, and ultimately instilling both positive and sustainable fitness and nutrition practices, in addition to providing comprehensive counseling and emotional support.
Bamboo Nutra Executive VP Leighton Dean stated, "It's our hope that the education and experience (the orphans) gain this summer will have a major impact on their present-day lives and also in shaping their futures. An important thing to remember is that our goal is to not only directly influence these kids, but just think for a moment about the secondary effects we have the opportunity to create and what's on the horizon; the positive fitness and nutrition practices they learn, the emotional structure, the communication skills, the compassion… Everything they absorb here and now can influence their approach to life, and hopefully becomes an integral part of the foundation within their very own families when that time comes. This generational impact on our communities is really the heart and soul of our movement, and is the ultimate objective of the Health and Wellness revolution that we do everything we can to stay on the forefront of."
About Bamboo Nutra:
Bamboo Nutra is an innovative Health Supplement and Lifestyle Company, focused on promoting comprehensive body/mind/life transformation through positive and healthy lifestyle choices. The company's core philosophy is built around instilling key principles into people's lives such as knowledge, education, confidence and compassion, and bringing health and wellness to every corner of the world.
For more information, visit BambooNutra.com, or keep up to date with all the latest news, events and challenges on Facebook at: http://www.facebook.com/BambooNutra or on Twitter: https://twitter.com/BambooNutra. To connect with the Bamboo Nutra evolution add the hashtag #bamboonutra along with #compassionbynature to your Social Media posts.