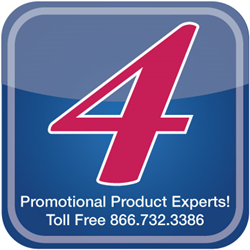 Essex, CT (PRWEB) July 14, 2014
Summer is the best season of the year for many. Summer means vacations, camping, days at the beach, swimming and other outdoor adventures. The promotional product experts at 4AllPromos want everyone to be safe, happy and healthy all summer long. The promo product gurus at 4AllPromos have put together of a list of the three must-have custom imprinted products everyone must have on hand this summer.
The first summer essential is of course sunblock. Sunscreen helps protect skin from harmful UV rays produced by the sun. According to the Skin Cancer Foundation, skin cancer is the most common form of cancer found in the United States. To stay safe in the sun it is important to apply a skin block that is at least 30 SPF. Make sure to reapply after swimming, sweating or being outside for more than 3 hours at a time. 4AllPromos carries a large assortment of travel size sun screen lotions, towelettes and sprays. These items make great giveaways at outdoor events and festivals.
The second summer essential is a hat. Hats help product scalps and faces from that harsh summer sun. Sunscreen is not the only way to protect skin from the sun. Apparel is a great way to avoid sun burns and sun damage. Sun can cause signs of aging. Hats can help shade important areas on the head all day long. 4AllPromos has hats for all the fashionistas including baseball caps, bucket hats and even straw hats.
Finally, sunglasses help protect our eyes from the bright summer sun. Believe it or not the sun damage can also affect vision. Sunglasses are an affordable and stylish way to keep eyes healthy all year round. Many styles and colors of 4AllPromos sunglasses start at under $2.
Sunblock, hats and sunglasses will complete every summer look and keep everyone safe and happy on the beach, in the water and on vacation. All these items make great custom imprinted gifts or giveaways at beaches, amusement parks, water parks and other summer attractions.
For more summer essentials visit http://www.4allpromos.com or call 1-866-732-3386 toll-free. 4AllPromos is a leading online marketing of promotional, custom imprinted and personalized products including tote bags, apparel, drinkware, trade show giveaways, office products and more. 4AllPromos maintains a Lowest Price Guarantee for all our products compared to competitors.