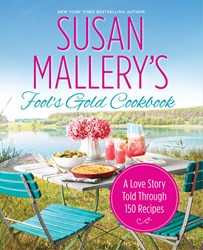 Seattle, WA (PRWEB) September 14, 2013
September 21 is the last day of summer 2013, and Susan Mallery has come up with a delicious twist on the quintessential summer treat: S'Mores Bars – no campfire required. This kid-friendly recipe can be found in Susan Mallery's Fool's Gold Cookbook, available now wherever books and ebooks are sold.
"My S'Mores Bars are so easy to throw together," Mallery says. "You don't even have to turn on the oven. Essentially, you spread a layer of two-ingredient fudge over a graham cracker crust, then dot it with mini-marshmallows. If you bring it to your next potluck, I guarantee it will disappear!"
Recipe: S'mores Bars
Serves 12
6 tablespoons unsalted butter, plus more for greasing the pan
1 ½ cups graham cracker crumbs (from about 10 whole crackers)
¾ cup sweetened condensed milk
1 ¼ cups semisweet chocolate chips
Pinch of salt
1 ¼ cups mini marshmallows
1 whole graham cracker, broken into bits
1. Butter the top and sides of an 8-inch square baking dish.
2. Melt butter in a medium bowl in microwave. Add graham cracker crumbs and stir until evenly moistened and mixture holds together. Press mixture evenly in bottom of prepared pan.
3. Combine condensed milk and chocolate chips in a medium saucepan; place over medium-low heat. Warm until chocolate is melted and smooth, stirring often. Remove from heat; stir in salt. Pour over cracker base, smoothing with a spatula. Drop marshmallows over warm chocolate, gently pressing so marshmallows become embedded in chocolate. Break up the whole graham cracker and stick in between marshmallows. Cover pan and refrigerate at least 3 hours. Serve cold.
Susan Mallery's Fool's Gold Cookbook is divided into seasonal sections. Each section – Spring, Summer, Fall and Winter – has a range of everyday recipes, plus a subsection for celebrations. Fool's Gold, California is the fictional setting of Mallery's bestselling series of romance novels. Just One Kiss, Two of a Kind, and Three Little Words were released earlier this year, and Christmas on 4th Street is scheduled for release on September 27.
About Susan Mallery:
With more than 25 million books sold worldwide, New York Times bestselling author Susan Mallery is known for creating characters who feel as real as the folks next door, and for putting them into emotional, often funny situations readers recognize from their own lives. Susan's books have made Booklist's Top 10 Romances list in four out of five consecutive years. RT Book Reviews says, "When it comes to heartfelt contemporary romance, Mallery is in a class by herself." With her popular, ongoing Fool's Gold series, Susan has reached new heights on the bestsellers lists and has won the hearts of countless new fans.
Susan grew up in southern California, moved so many times that her friends stopped writing her address in pen, and now has settled in Seattle with her husband and the most delightfully spoiled little dog who ever lived. Visit Susan online at http://www.SusanMallery.com.