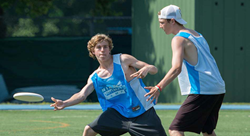 This team effort between Nike Ultimate Camps and the MLU will pave the way for growth in this amazing sport
San Rafael, CA (PRWEB) May 05, 2015
Major League Ultimate (MLU) was founded by Jeff Snader in 2012, with the belief that ultimate Frisbee™ is home to many amazing athletes, dramatic moments, and can be the next sport that engages the world. Nike Ultimate Camps' goal of spreading the sport to the youth level, by creating opportunities for young athletes to learn about the sport and develop their skills, makes this collaboration with MLU the perfect fit.
The Nike Ultimate Camp in Philadelphia by MLU will provide campers with the special opportunity to participate in MLU player-designed drills and learn professional techniques to prepare them for a lifetime of ultimate success. The ultimate camp program is designed for boys and girls, ages 11-18, of all ability levels. Camp runs daily from 9:00am-4:00pm and takes place at the MapleZone Sports Institute in Garnet Valley, PA from July 27-31, 2015.
"This team effort between Nike Ultimate Camps and the MLU will pave the way for growth in this amazing sport," said MLU Commissioner Jeff Snader. "The biggest thing that youth players need now is direction and training. The Spinner Nike camp will allow them to harness the skills necessary to become the best players they can be when they get on the field."
Detailed information on the 2015 Nike Ultimate Camps can be found online at http://www.ussportscamps.com/ultimate.
About US Sports Camps, Inc.
US Sports Camps(USSC), headquartered in San Rafael, California, is America's largest sports camp network and the licensed operator of Nike Sports Camps. The company has offered summer camps since 1975 with the same mission that defines it today: to shape a lifelong enjoyment of athletics through high quality sports education and skill enhancement. Players, coaches, parents and others interested in Nike Ultimate Camps and US Sports Camps can visit the company's website at http://www.ussportscamps.com.