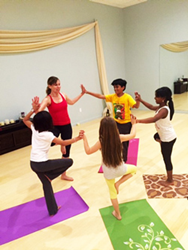 Yoga is more and more becoming a necessary part of every athlete's training.
San Rafael, CA (PRWEB) April 13, 2015
Nike's Global Yoga Ambassador, Leah Kim, and Ally Hamilton, founder of Yogis Anonymous, have joined forces to create an exciting curriculum for athletes, ages 5-12, that places emphasis on flexibility and balance, body awareness, developing mental focus, and conquering stress.
Instructed by nationally recognized yogis, Nike Yoga Camps is offering two locations this summer for boys and girls in Santa Monica, California and Cupertino, California. The yoga camp consists of four days of half-day sessions, incorporating two yoga practices per day modified to fit each individual child's athletic ability.
Leah Kim comments: "I am so excited that US Sports Camps is launching Nike Yoga Camps this year! Yoga is more and more becoming a necessary part of every athlete's training. The younger you start incorporating it into your life, the better you will perform, but also the better you will feel - both physically and mentally. Yoga is a very broad subject that can focus on countless different things. With Nike Yoga Camps, we have tailored the curriculum to be relevant to kids. There will be an emphasis on movement, being healthy, and understanding the mind-body connection. We want to teach kids from a young age that it is important to do and be your best, all the while taking care of yourself and your peers. Nike Yoga Campers are going to have loads of fun and learn new things that they will be able to apply beyond the camp - whether playing a sport or just in day to day life. We have the best yoga teachers lined up for the job of teaching yoga in pure form that is easy for kids to understand and enjoy. Can't wait to see you all on the mat!"
For information on Nike Yoga Camps, please visit http://www.ussportscamps.com/yoga or call 1-800-NIKE-CAMP (645-3226).
About US Sports Camps
US Sports Camps (USSC), headquartered in San Rafael, California, is America's largest sports camp network and the licensed operator of Nike Sports Camps. The company has offered summer camps since 1975 with the same mission that defines it today: to shape a lifelong enjoyment of athletics through high quality sports education and skill enhancement.