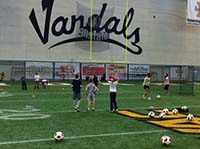 The Nike Soccer Camps family are excited to bring on another Division 1 school to the lineup.
San Rafael, CA (PRWEB) May 05, 2016
The 2016 Nike Soccer Camp will be directed by the 2015 Big Sky Coach of the Year, Derek Pittman, along with his university coaching staff. Together they bring their winning Vandals coaching philosophy to young athletes. Programs are offered for boys and girls, with separate sessions run for youth players ages 5-13, and high school players. Session dates are as follows:
Youth Day Camp – July 11th-14th
High School Boys – July 19th-21st
High School Girls – July 25th-27th
Elite ID Camp – August 6th
"The Nike Soccer Camps family are excited to bring on another Division 1 school to the lineup," states Renee Chapman, Soccer Sport Manager at US Sports Camps. "The coaches' credibility and teaching methods will highly benefit our campers in the Northwest Region."
Campers practice and play on the University of Idaho game field, and experience what it's like to be a Vandal collegiate athlete in beautiful Idaho surroundings. High school aged campers even have the opportunity to stay on campus in the student dorms.
Camp programs are organized for age-appropriate training. Youth camps provide instruction on skill development for players at many levels who want to build their soccer skills. High School and ID camps are designed for competitive athletes who are looking to improve their individual technical skills as well as their tactical approach during games. High school players will to attend sports psychology, injury prevention, and nutrition education sessions conducted by college coaches and athletes to offer insight on becoming an elite athlete.
Registration is now open. For more information or to register for camp, visit US Sports Camps online at http://www.ussportscamps.com or call 1-800-NIKE-CAMP.
About US Sports Camps, Inc.
US Sports Camps (USSC), headquartered in San Rafael, California, is America's largest sports camp network and the licensed operator of Nike Sports Camps. Over 75,000 kids attended a US Sports Camp program in 2015. The company has offered summer camps since 1975 with the same mission that defines it today: to shape a lifelong enjoyment of athletics through high quality sports education and skill enhancement.