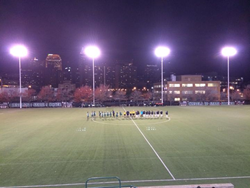 Nike Soccer Camps is so excited to have access to the Krenzler Field.
San Rafael, CA (PRWEB) May 16, 2016
US Sports Camps has announced that the Nike Soccer Camp at Cleveland State University has a new, exciting location this summer. Contrary to last summer, campers will practice on Cleveland State Vikings own Krenzler Field. The soccer field has reopened this season after a $2.9 million renovation. It features a turf with physical properties of natural grass but boasts the durability of traditional turf. Nike Soccer campers have the exclusive opportunity to play on a collegiate playing surface which has been FIFA approved for professional use, and is currently in high demand by NCAA teams.
Camp is open to boys and girls ages 7-14 and runs from July 25th to 29th. Athletes will improve valuable soccer skills, attending camp 9 am – 3 pm daily.
"Nike Soccer Camps is so excited to have access to the Krenzler Field," states Renee Chapman, Soccer Sport Manager at US Sports Camps. "This will allow our campers to gain the experience of training like a collegiate soccer player."
Cleveland State Men's Soccer Coach and Nike Soccer Camp Director Ali Kazemaini has over 20 years of soccer coaching under his belt. He and his CSU camp staff bring valuable experience to their summer audience of young athletes.
The camp program is organized to provide training based on age and skill level. Each day, campers attend tactical sessions which help to visualize various game-time situations and strategies. They participate in drills and work on individual skill development before putting their learnings into practice during afternoon games each day.
Registration is now open For more information or to register for camp, visit US Sports Camps at http://www.ussportscamps.com or call 1-800-NIKE-CAMP.
About US Sports Camps, Inc.
US Sports Camps (USSC), headquartered in San Rafael, California, is America's largest sports camp network and the licensed operator of Nike Sports Camps. Over 75,000 kids attended a US Sports Camp program in 2015. The company has offered summer camps since 1975 with the same mission that defines it today: to shape a lifelong enjoyment of athletics through high quality sports education and skill enhancement.