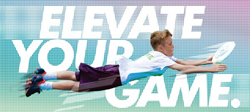 The Nike Ultimate Camp at Manhattan College is a camp that kids just want to come back to, year after year
San Rafael, CA (PRWEB) January 20, 2016
The Nike Ultimate Camp of New York, which moved to Manhattan College two years ago, just held its third year of camp in 2015. With continued growth and great camper feedback each summer, Nike Ultimate Camps is pleased to announce the camp will return in 2016. The youth ultimate camp in New York City is directed by Aaron Bell, who has been playing, organizing, and coaching elite level ultimate Frisbee for almost twenty years. The camp's mission is to provide an environment for players to cultivate the spirit of the game, while acting as a launch pad for players to become the best they can be through elite skills training.
The Nike Ultimate Camp at Manhattan College is a summer camp with a strong curriculum geared toward boys and girls of all ability levels, ages 11-18. This youth ultimate frisbee™ camp will take place from July 24-28, and will offer Overnight, Extended Day (9:30am – 8:00pm), and Day (9:30am – 4:30pm) camp options. Overnight campers really get a glimpse of what college life is all about by spending the week on a college campus, sleeping, dining and playing ultimate where the college students do.
"The Nike Ultimate Camp at Manhattan College is a camp that kids just want to come back to, year after year," said Siera Levenson, National Manager of Nike Ultimate Camps. "Aaron does a wonderful job staffing his camp with the best coaches in New York and he has created a program that is exciting, fun and truly improves the campers' skills and their passion for the sport."
Detailed information on the 2016 Nike Ultimate Camps can be found online at http://www.ussportscamps.com/ultimate.
About US Sports Camps, Inc.
US Sports Camps (USSC), headquartered in San Rafael, California, is America's largest sports camp network and the licensed operator of Nike Sports Camps. The company has offered summer camps since 1975 with the same mission that defines it today: to shape a lifelong enjoyment of athletics through high quality sports education and skill enhancement. Players, coaches, parents and others interested in Nike Ultimate Camps and US Sports Camps can visit the company's website at http://www.ussportscamps.com or call 1-800-Nike-Camp.