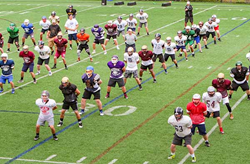 They know that the training they can receive here at NEFC is unmatched.
San Rafael, CA (PRWEB) November 02, 2016
The Northeast Football Clinics (NEFC) offer elite training by professional and collegiate coaches and talent in the Northeast region. Each program is customized for individual training based on the players' field position. For example, the lineman/linebacker program offers special training groups for inside linebacker, center, outside linebacker, nose guard, defensive tackle, and offensive and defensive guard. While the quarterback/receiver clinic offers training for QB, receiver, tight end, and running back.
US Sports Camps is proud to offer these clinics to young football players each year because they provide such a valuable experience. These athletes are able to receive outstanding tips to improve their skills and technique. They take the training back to their home field and become better players, allowing their summer training to supplement their football playing career. "Many of these players are return campers who have goals of playing in college and beyond," states Jan O'Connor, EVP at US Sports Camps. "They know that the training they can receive here at NEFC is unmatched, and will provide them with invaluable skills they can take with them into the future."
Northeast Football Clinics operate the same week in July each year. In 2017, the clinic will be offered July 7-9. Facilities can host a total of 300 players, so families are encouraged to register early. Additional clinic details and online registration can be found at http://www.ussportscamps.com or by calling 1-800-645-3226.
About US Sports Camps, Inc.
US Sports Camps (USSC), headquartered in San Rafael, California, is America's largest sports camp network and the licensed operator of Nike Sports Camps. Over 80,000 kids attended a US Sports Camp program in 2016. The company has offered summer camps since 1975 with the same mission that defines it today: to shape a lifelong enjoyment of athletics through high quality sports education and skill enhancement.