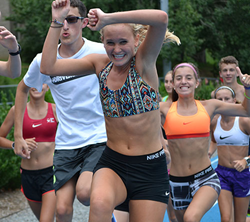 We are proud that these camp experiences can really shape young athletes to have a lifelong love for their sport.
San Rafael, CA (PRWEB) December 16, 2016
In 2017, both Cross Country and Track & Field Nike Running Camps are offered at more than 25 locations nationwide. Middle school and high school runners of all skill levels are encouraged to attend. Each program will educate, inspire and train young to reach their goals.
SUNY Cortland, Brockport, Central Wisconsin, and Bowling Green State University are just a few of the camp locations set to launch for the first time this year. Cross country destinations boast woodsy running trails and track & field athletes will experience state of the art facilities. Many programs offer workshops on health and fitness running topics, as well as guest speakers and recreational activities. All campers will have the opportunity to stay the duration of the session on campus and experience life as a collegiate athlete. Day attendance and extended day options are also available at varying locations.
In addition to youth camps, Nike Running Camps offer two Nike Coaches Workshops in 2017, which run alongside the Smoky Mountain and Green Mountain cross country camps. Coaches of all levels and experience will have the opportunity to gain new insights on coaching philosophy and technique, as well as participate in trail runs and informational workshops.
"Our Nike Running Camps really exemplify US Sports Camps' ultimate goal – to connect young athletes with the best coaches, facilities and instruction in the country," states Jan O'Connor, Executive Vice President at US Sports Camps. "We are proud that these camp experiences can really shape young athletes to have a lifelong love for their sport."
Registration for summer is now open. Parents, coaches and campers can register for the 2017 Nike Running Camps at http://www.ussportscamps.com/running/ or by calling 1-800-645-3226.
About US Sports Camps, Inc.
US Sports Camps (USSC), headquartered in San Rafael, California, is America's largest sports camp network and the licensed operator of Nike Sports Camps. Over 85,000 kids attended a US Sports Camp program in 2016. The company has offered summer camps since 1975 with the same mission that defines it today: to shape a lifelong enjoyment of athletics through high quality sports education and skill enhancement.