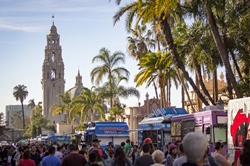 "Balboa Park has everything you could ever want in a summer destination, from 16 museums, restaurants, the Old Globe theater and the San Diego Zoo, to beautiful blooming gardens, 65 miles of hiking trails, and more," said Michael Warburton, Director of Parkwide Communications.
SAN DIEGO (PRWEB) June 21, 2019
The organizations in Balboa Park are working together to turn up the heat this summer with an incredible diversity of special exhibitions, events, and activities across the park! Visit https://www.balboapark.org/summer for the most up-to-date schedules and visitor information. Here are some highlights:
Friday Night Fun in Balboa Park
Cap off a perfect summer day with a truly a great night of food, art and culture! Gather your friends and family for hands-on creative projects, games, live entertainment, a rotating assortment of food truck cuisine, and evening hours at several popular museums. Special deals include $5 after 5:00 pm for Art After Hours at the San Diego Museum of Art, half-price admission to the San Diego Natural History Museum's Nat At Night (which also features a rooftop bar with incredible views, closing at 10:00 pm), and discounted admission with live entertainment for Family Nights at the Fleet Science Center. Food trucks begin serving at 4:00 pm.
Something for Adults
There is a variety of performances, exhibitions, and events that are sure to keep non-child toting visitors coming back to the park all summer long. For example, dress to impress at the Museum of Art's Culture and Cocktails: Angels and Saints on July 25th, or for Night of the Apollo at the Air and Space Museum, celebrating the 50th anniversary of man's first walk on the moon on July 20th. Enjoy casual experiences, like a tango lesson on Monday night at Centro Cultural de la Raza, craft beer and the Wednesday Night Young Lions and Jazz Jam at Panama 66, or special Thursday programming and rooftop access for Nat at Night. And on Saturday evenings, no kids are allowed at the Fleet Science Center's 21+ Adult Recess. Stop by after work to catch one of the many free concerts featuring the Spreckels Organ - including Monday June 24th and the tribute to Pink Floyd and Led Zeppelin – or one of the Twilight in the Park Concert Series events at the organ pavilion on Tuesdays, Wednesdays, and Thursdays every week!
Excellent Exhibitions and Events
Highlights for summer 2019 include Art & Empire: The Golden Age of Spain at the museum of art, and SPACE: Our Greatest Adventure at the Air and Space Museum. For a local connection, catch a docent-led tour of the in-depth LGBTQ+SD exhibition at the San Diego History Center, or visit the Post Secret exhibition at the Museum of Man – extended due to popularity and with newly added secrets from San Diego residents! The Inaugural San Diego Tanabata Festival will take place at the Japanese Friendship Garden on July 7th , and celebrate National Carousel Day at the historic Balboa Park Carousel on July 25th.
One Pass for All
Spend the day visiting your favorite museums and get the best deal in town with the Balboa Park Explorer Pass. Choose One-Day, Multi-Day (with an option to add the Zoo), or Annual passes – the best deal for locals. There are no black-out dates, and sales of the pass directly support participating institutions.
Summer action in Balboa Park runs through September 2nd, with food trucks running Fridays through September 27th.
Hot tip: if driving, park at Inspiration Point and take the free tram into the heart of the park.
About Balboa Park Cultural Partnership
Balboa Park Cultural Partnership is a nonprofit organization through which 29 arts, science and cultural institutions in Balboa Park collaborate to achieve shared goals. By helping these groups achieve greater organizational efficiency, innovation and excellence, it seeks to contribute to the vitality and sustainability of Balboa Park. For more information, visit http://www.bpcp.org.
About Balboa Park
Balboa Park is the nation's largest urban cultural park, located near downtown San Diego. First established by the City of San Diego in 1868, it is also one of the oldest urban parks in the United States, and is considered a model for public/private partnerships at a large scale. Balboa Park is the most visited single destination in San Diego, and its 1,200 acres include 17 museums, attractions, the San Diego Zoo, a variety of gardens, miles of hiking trails and multiple athletic complexes. For more in-depth information about the park, visit http://www.balboapark.org.