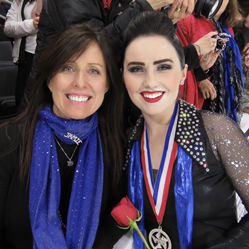 Don't let a game define who you are, let how you play it, how you work it and how you live it do that. - Therese Allison, "Playing for Keeps" Author, Mom and Mentor
HUNTINGTON BEACH, Calif. (PRWEB) July 19, 2021
In sync with the Tokyo Summer Olympics that start this Friday, July 23, 2021, Successful Businesswoman, Award-Winning Author, athlete, and mother of a Team USA 2 member, Therese Allison uncovers 5 Winning Tips for sports, business and life that are featured in her self-help memoir, "Playing for Keeps – How a 21st century businesswoman beat the boys." With 11,238 athletes preparing to compete in 33 sports for 339 Gold Medals on the world stage, Allison believes that these tips can help you build "championship character."
After being a jock in grade school who was voted "Best Athlete", Allison credits her "I Can" Attitude and career success with playing competitive sports (CIF Tennis Champions, volleyball, majoring in Physical Education in college and more). And because anything in life takes time to master, Allison emphasizes, "It's not the end that counts, it's how you make the journey."
Growing up in humble means in La Canada, California, Allison got her best education and a confidence boost by playing competitive sports. Using this "Winning" approach in business, she became the first female producing Partner in an insurance brokerage company tied to Lloyd's of London where for 300 years (women weren't allowed on the underwriting floor.) And after becoming a Partner, Allison became financially independent at age 38 and retired early at 43 when her company (McKenna & Associates) was sold to AON
Allison's 5 Winning Tips for Sports, Business and Life include:
1. Adopt an "I Can" attitude to carry you over the finish line.
2. Accept that sports and business are both games with winners and losers.
3. Recognize that "strategy is everything" from the playing field to the boardroom.
4. Practice visualizing wins to make you unstoppable in achieving goals.
5. Recognize there are no shortcuts, and you have to "pay your dues."
As a mom and mentor, Allison encouraged her children to play sports, and learn the importance of strategy, visualization, and paying your dues. Her three children competed in ice hockey at UCLA, volleyball in Huntington Beach and even earned a place on the Team USA 2 for the WSSC (World Synchronized Skating Championships) in 2015 and 2016 (and won medals in Italy and Austria.)
Allison's daughter's team won 2 Silver medals at U.S. Synchronized Skating Championships, and then went on to the World Synchronized Skating Championships. After many rounds of competition, only two USA teams got to go on to the World Championships. This global competition is as high as it goes for Synchronized Skating competitions worldwide, so it felt like the Olympics for that sport. Allison says that watching her daughter's team medal on the podium in other international competitions gave her the chills as they raised the American flag above their head.
Reflecting on the benefits of playing competitive sports, Allison advises, "You can win in life by playing competitive sports, aiming high and adopting an "I Can" attitude for whatever is your passion. Whether it's a hobby, career or as a parent, playing sports can give you the foundation to win."
And because music has been such an important part of her success, Allison just published a new Playlist with favorite songs to inspire others. She emphasizes, "I love Shawn Mendes song 'Believe'...'Everything is possible, there's nothing we can't do.' It's really the key to sports and business."
AMAZON BOOK PAGE
"Playing for Keeps: How a 21st century businesswoman beat the boys" (2020)
(Available in hardcover, paperback and ebook/Kindle formats)
https://www.amazon.com/PLAYING-KEEPS-century-businesswoman-boys/dp/1735088609
MEDIA CONTACT:
Liz Kelly, 310-987-7207
ABOUT THE AUTHOR: THERESE ALLISON (Huntington Beach, CA, grew up in La Canada, CA near Hollywood, born in Hollywood) is a self-made success story, mom and Author of "Playing for Keeps – How a 21st century businesswoman beat the boys" (self-help memoir) who EMPOWERS women and men to succeed in business and life. To help others learn from her experience, Allison openly shares how she became financially independent at age 38, and retired early at 43 to spend quality time with her children. Today, Allison is busy mentoring her three children and others to succeed in business and life. Her work has been seen in the Los Angeles Times, MSN, GoBankingRates, Yahoo! Finance, Yahoo! Sports, Shout Out LA, Authority Magazine, Thrive Global, VoyageLA, Huntington Beach News, KVTA News Talk 1590 Girls on the Air Show, Great Books Great Minds, A Dime Saved, Healing Powers Podcast, Get Clients Now Podcast, The Polished Woman and more http://thereseallison.com