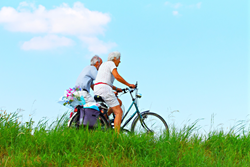 TUCSON, Ariz. (PRWEB) July 31, 2019
As temperatures across the US reach the 90s and higher, heat safety is a growing concern. 200 adults die every summer from heat-related illnesses. Older adults are particularly vulnerable, as it can become more difficult for their bodies to accurately sense and respond to changes in temperature. In addition, certain medications or health conditions can reduce an older adult's ability to sweat.
Fortunately, there are strategies that older adults can use to reduce their risk of heat stroke and other heat related illnesses. These include:

Just as our sensitivity to heat dulls as we age, so does our awareness of thirst. This, along with our body's ability to conserve water as we grow older, put seniors at greater risk of dehydration. Try carrying a water bottle with you at all times, adding fresh lemon or lime for interest. Many summer fruits, like watermelon, are hydrating and make a great snack. If you are on a fluid-restricted diet, consult your physician about how to get the fluids you need during the hot summer months.
Keeping Cool During the Hottest Parts of the Day
If your home doesn't have air condition or fans, keep your curtains closed during the day and limit your use of the oven. Your local Area Agencies on Aging may provide transportation services to cool locations. Take a cool shower to help lower your body temperature.
Knowing the Signs of Heat-Related Illness
If you or a loved one experiences heavy sweating, weakness, a fast and weak pulse, nausea or fainting, this could be a sign of heat exhaustion. In this case, move to a cool location as quickly as possible. Lie down, loosen clothing and apply cool, wet cloths to as much of the body as possible. Sip some cool water.
Heat stroke is a more serious situation and is characterized by a body temperature above 103 degrees, hot and red skin, a rapid and strong pulse, or unconsciousness. In this case, call 911 immediately. Before paramedics arrive, move the person to a cooler environment, apply cool cloths, but do NOT give them fluids.
Contacting an Aging Life Care Professional
If you need help locating services, financial assistance, or other help with aging in place, call a local Aging Life Care Professional. These experts can connect you with needed aid, and are available to help you in all different aspects of the aging journey. You can learn more and find an Aging Life Care Professional near you at aginglifecare.org.
###
ABOUT the Aging Life Care Association ® (ALCA): ALCA (formerly known as the National Association of Professional Geriatric Care Managers) was formed in 1985 to advance dignified care for older adults and their families in the United States. Aging Life Care Professionals® have extensive training and experience working with older adults, people with disabilities, and families who need assistance with caregiving issues. They assist families in the search for a suitable nursing home placement or extended care if the need occurs. The practice of Aging Life Care™ and the role of care providers have captured a national spotlight, as generations of Baby Boomers age in the United States and abroad. For more information or to access a nationwide directory of Aging Life Care Professionals, please visit http://www.aginglifecare.org