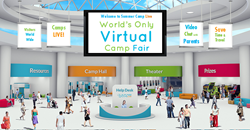 Summer camp is one of the most fulfilling and educational experiences a child can have, and we are excited to be presenting this incentive to assist those who may not have otherwise had the opportunity to attend camp," said Vicky di Colloredo-Mels
Miami, FL (PRWEB) April 21, 2014
Summer Camp Live, the world's first and only virtual camp fair, helps parents and campers around the world find the best summer camp or summer program through its advanced camp directory and search platform online. As a special incentive for campers and parents to participate in the virtual fairs, Summer Camp Live is awarding eligible campers with a credit valued at $500 toward enrollment in a participating camp.
"We are pleased to announce that we offer a campership of $500 dollars to assist parents in covering their summer camp expenses. Summer camp is one of the most fulfilling and educational experiences a child can have, and we are excited to be presenting this incentive to assist those who may not have otherwise had the opportunity to attend camp," said Vicky di Colloredo-Mels, founder of Summer Camp Live.
To be considered for a campership, parents and campers (older than 13 years of age) sign up for the virtual camp fair online and as they interact with camp staff and navigate through the fair, are assigned points based on how active they are during the fair. For example, attendees can earn points by completing their online profile with valid data and picture, by chatting with camp directors one-on-one during the fair, by attending on-demand presentations and webcasts, or by downloading camp documents to read later. Participants even earn points by attending the fair more than once, as new camps are added on a daily basis.
The minimum required points to be eligible for a prize is 50 points, and the campership must be applied toward a participating camp. One eligible participant will be picked at random to win the campership during each special event, and another camper will be chosen each quarter. Full contest rules are available on the website.
Research from the American Camp Association (ACA) found that there is a connection between summer camp and education, and studies have shown that kids who go to summer camp are better prepared to perform well in school and in life. Furthermore, according to the ACA, parents have cited that camp helps their children develop social skills, make friends, increase in independence, gain leadership skills and build self-confidence and self-esteem within a safe environment of their peers. Summer Camp Live is proudly affiliated to the ACA, and joins in ACA's commitment to enable 20 million children to go to camp by 2020.
"Because we believe in the 'goodness of camp,' our mission is to help parents and campers from different backgrounds and cultures around the world find the best summer camp or summer program. We've accomplished this through our robust virtual camp search experience, and our live online summer camp fair is the perfect medium between participating camps and the parents who want to make the most informed decision for their child," said Felipe Ospina, managing partner at Summer Camp Live.
Summer Camp Live was founded in 2012 by di Colloredo-Mels, a former banker who left the industry in search of new and exciting opportunities. With a background in education and a desire to create a career path she was passionate about, di Colloredo-Mels, a mother of two teens, was introduced to the summer camp industry. She was amazed at how a camp experience can positively affect the life of a child and in turn affect society as a whole. Based on her own experience, di Colloredo-Mels found it costly and time consuming for camps and parents to attend physical camp fairs around the country. Furthermore, she saw how difficult and limited it was to search for information on the thousands of camp options. Thus she conceived the idea of Summer Camp Live as a platform to bridge the gap between camps, parents and campers from around the world who wish to find the ideal summer camp or summer program.
In an effort to assist the increasing number of parents and campers who are primarily Spanish speakers both in the U.S. and in other countries, Summer Camp Live has just debuted a separate homepage in Spanish. Plans are in place to have a Spanish translation for the entire site over the coming year. The translated site is now accessible through an "En Español" link at http://www.summercamplive.com, or can be visited directly through its own URL at http://www.summercamplive.com/espanol.
About Summer Camp Live
Summer Camp Live is the world's first and only virtual summer camp fair. Through this online tool, camps can register online to be part of the fair and attendees can "tour" virtual camps year round. Summer Camp Live helps parents and campers around the world find the best summer camp or summer program by offering the most advanced online camp fair experience. The online camp fair is on all the time, 365 days of the year, 24 hours a day. For more information, visit http://www.summercamplive.com, and on Twitter at @SummerCampLive and Facebook.com/SummerCampLive