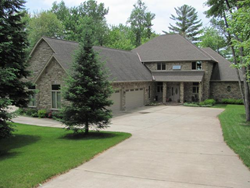 Green Bay, WI (PRWEB) July 28, 2016
Online real estate auction firm Micoley.com powered by RealtyHive is preparing to host two late summer events featuring properties for sale throughout the U.S. and Caribbean. Property types include commercial, residential, multi-family, and vacant land.
One property being featured in the upcoming August event is Lot 755, or 1241 Florsheim Rd, Minocqua, WI (zip: 54548). The 3,703 square-foot home was built on 1.2 acres in 2005. It features four bedrooms, three bathrooms, two wet bars, granite countertops throughout, red oak flooring, and butternut vaulted ceilings. Additional features include a tumbled stone deck and two four-car garages (one attached and one detached), among many other amenities.
The Minocqua property is being marketed in alliance with Re/Max Woods & Water, Broker, Dennis Condon. Dennis could not be happier about this alliance: "Our sellers are excited to see the outcome of the events with the amount of exposure that Micoley.com powered by RealtyHive offers."
Another property in which is being featured in the September event, is Lot 863, AKA 120 N Lake St Neenah, WI (zip: 54956). The 20,636 square-foot commercial/industrial building was built in 2008 on 1.44 acres, minutes from I-41. It features an 8,752 square-foot office and an 11,884 square-foot manufacturing/warehouse space. Additional features include a conference room, kitchenette, restrooms, loading dock, and extensive parking for employees and customers.
Micoley.com powered by RealtyHive Founder & CEO, Wade T. Micoley states he is thrilled about these late summer events. "We continue to get great properties with sellers that are motivated to sell. We are very excited to see the growth and reach of our program through the U.S. and Caribbean."
Sellers behind these and other properties featured in Micoley.com powered by RealtyHive's late summer events emphasize that they will review early bids and offers. Potential buyers are therefore encouraged to act fast on properties that pique their interest. Events will occur on August 24, 2016 and September 21, 2016 from 10a.m. - 4p.m. CST.
For more information please visit http://www.micoley.com or call 866-371-3619. Additionally, Micoley.com powered by RealtyHive features a live chat service through which questions can be answered.
About Micoley.com powered by RealtyHive:
Micoley.com powered by RealtyHive was created to "transform the real estate industry." President and CEO, Wade T. Micoley has served as a real estate industry leader for more than 30 years, and continues to provide marketing solutions to his wide range of clients.
"Today we serve the real estate community in both the banking and private sectors with customized, accelerated marketing programs," said W. Micoley. "Programs can be tailored for financial institutions, commercial and corporate clients as well as the individual property owner to help face our current and unpredictable economic environment. As a result of our aggressive marketing plan, Micoley.com powered by RealtyHive has successfully assisted many clients across the United States."