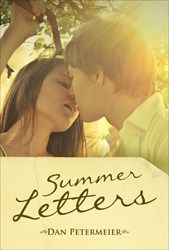 In a story about love, family, and faith... If you believe that life is a puzzle, eventually you find out how all the pieces fit together.
Hollywood, FL (PRWEB) January 16, 2014
In author Dan Petermeier's recently released romance novel, "Summer Letters", a young Minnesota man's life changes forever when an unexpected letter arrives from a co-ed in West Virginia.
Liam Roberts is searching for answers and direction in his life. But the summer of 1993 brings more drama and romance than the young man dared imagine. Even as his love life heats up, Liam wonders if any of the women in his life could become more than friends.
Inspired by real life, the tear-jerking "Summer Letters" portrays Liam's quest for a stable, long-term relationship. It's a search that detours when a mysterious letter arrives in the mail from a college-aged woman he's never met.
For Liam, what quickly becomes a daily exchange of letters is a peaceful outlet. For his pen pal, it's a way to get over the sudden death of her mother. But just as he starts to wonder if she's "the one," his relationship with a sexy young woman from a wealthy local family starts to get steamy. Things get even more emotionally charged when his ex-girlfriend wants to rekindle their relationship.
Will Liam find his soul-mate? Or will he jeopardize everything only to be heartbroken once more? Can one letter bring two people together or will it force them to say goodbye forever?
Published by Tate Publishing and Enterprises, the novel is available in paperback and eBook formats through bookstores nationwide, from the author at SummerLetters.com, the publisher, or by visiting online stores such as BarnesandNoble.com or Amazon.com.
"Summer Letters" authored by former Minnesota resident Dan Petermeier, is a faith-inspired romance novel based on some real life events. Dan is the President of iMarket USA, Inc., a South-Florida based internet marketing company. Dan and his wife Beth currently reside in Hollywood, Florida.
For more information, please contact Michelle Whitman, publicist for Key Marketing Group at (877) 727-0697.