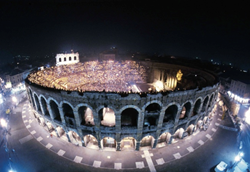 For first time opera goers, it's a great chance to be introduced to the art form with larger than life scenery and in mood-setting locales.
Chicago, IL (PRWEB) June 28, 2016
Summer in Italy is unlike any other season. According to Federalberghi, 59 million tourists are expected to travel to Italy during June and September of 2016. Unfortunately, most of these tourists are not aware of the Opera, concerts, and ballet performances that Italy has to offer. The summer season boasts a rich schedule of events among enchanting ancient settings. Select Italy (http://selectitaly.com), a boutique travel company, offers a wide array of tickets to summer festivals throughout Italy.
A few of the most attractive scheduled performances are:
Terme di Caracalla: Between AD 212 and 217, the Terme di Caracalla (Baths of Caracalla) were the second largest baths in Rome. Now these breathtaking Roman ruins are a main tourist attraction.

Madame Butterfly: July 29 to Aug 8, 2016
Il Barbiere Di Siviglia: July 18 to Aug 10, 2016
Arena di Verona: Nestled in the picturesque city of Verona sits the mesmerizing Arena di Verona. The Arena holds up to 14,000 spectators and is famous for being one of the world's largest opera theaters.

Carmen: July 16 & Aug 27, 2016
Turandot: July 23 & Aug 25, 2016
Il Trovatore: Aug 6 & Aug 26, 2016
The Puccini Festival Torre del Lago: This beautiful festival celebrates the great composer Giacomo Puccini and his many visions. This festival has been happening since 1930 and gives visitors the opportunity to be apart of a historical tradition.

La Boheme: July 16 & Aug 5, 2016
Tosca: Aug 6 & Aug 11, 2016
To find the complete schedule and ticket information visit selectitaly.com
"Summer opera festivals in Italy are a great way to experience this very important part of Italian culture and history. There are tickets that fit any budget, so there is no reason to miss out. For first time opera goers, it's a great chance to be introduced to the art form with larger than life scenery and in mood-setting locales." says Justin Anderson, Manager of Operations & Client Services.
About Select Italy
Select Italy® is The Ultimate Source for Travel to Italy® and offers a wide array of superior Italian travel products and services, including customized itineraries, state-of-the-art tours and packages, wedding/honeymoon trips, unique culinary classes, a complete pre-departure ticketing service for museums and musical events, private guided services, yacht charters, transportation, hotel reservations, villa bookings and more. Through a vast network of suppliers and cultural contacts, anything and everything needed for optimum travel to Italy is possible with Select Italy. Based in Chicago with an office in New York and Shanghai and support staff in Italy, the company has expanded its offerings and travel services to the Balkans with the launch of Select Croatia®.