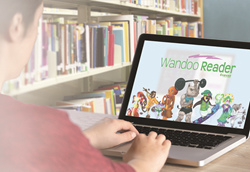 Kids were excited to come to the library and use Wandoo Reader. It has allowed us to connect with them in a new way.
INDIANAPOLIS, IN (PRWEB) March 24, 2016
Most kids love summer for its carefree nature. However, once school is out, many children lose months of educational progress and reading skills, an effect known as summer slide.
However, research confirms that children who participate in summer library programs better retain the reading skills they gained during the school year and may even improve their reading level. The Library of Virginia and McRel International conducted pre- and post-tests of literacy skills for more than 4,500 students and found that summer library programs have a significant effect on reducing or eliminating summer slide.
While the solution sounds simple, getting kids to enroll and stick with a library's reading program poses other challenges. To get out in front of this, libraries are using digital solutions to stimulate reading.
Wandoo Reader 2016 is a new software that not only manages reading programs, but also enhances learning through a game-like experience and customizable characters. Watch the video.
"Kids were excited to come to the library and use Wandoo Reader," said Cristina Winner, library director at Crowley Public Library in Crowley, TX. "It has allowed us to connect with them in a new way."
Key Features
1. Quick Program Setup
Librarians can set up an entire summer reading program in minutes. Versions are available for kids, teens and adults.
2. Game-like Experience
Kids stay engaged all summer long with customizable characters, redeemable points and more.
3. "Challenge" Features
Users are challenged to interact with the library and are rewarded for their efforts, which makes reading fun.
4. Enhanced Reporting
Participants create reading logs that stay with them.
5. Reinforced Security
Users' data stays safe and permission settings restrict who has access to user information.
About Evanced Solutions
As part of the Demco family, Evanced provides software solutions for libraries that save staff time and engage patrons. Products include a brain fitness eResource for adults, room and event management tools and a reading program tracker and enrollment generator. Learn more.
About Demco
Demco helps schools and libraries imagine what's possible, specializing in supplies, equipment, furniture, design services and more. Learn more.
###