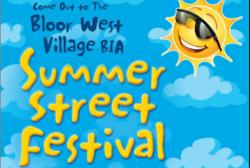 Toronto, ON (PRWEB) July 08, 2013
The Bloor West Village BIA is proud to present the 2013 Summer Street Festival. Toronto's favourite family-friendly festival celebrates the season on Saturday, July 13th with a street party from 9 a.m. to 11 p.m. Visitors will enjoy a variety of stage shows, activity centres and strolling entertainers. This free event will also feature delicious food, sidewalk sales, carnival games and inflatables.
With over 400 businesses in the area, festival-goers can expect a day filled with activities for the entire family. Participate in science-themed animal displays, thrill to the unicycling juggler or enjoy a tasty treat from a local food hot-spot.
The Main Stage will be set up at Bloor and Windermere with the lineup of events kicking off at 9 a.m. with the Villager Paper Baby Contest. Main Stage fun continues throughout the day with magic shows, a wildlife safari and a chance to meet Alex, the lion from the Madagascar movies. At 8 p.m., local band Disco Nation plays popular hits for a traditional street dance until the stage closes at 11 p.m.
A series of Activity Centres will be in operation along the length of the festival location. Armadale Ave. hosts the Pirate Castle Obstacle Course and a meet & greet with Captain Jack. Beresford Ave. is the site for the Animal Kingdom Bouncing Castle and face painting. You'll find the Chuggington Play Area and carnival games at Durie St., while Kennedy Ave. will be home to both the Sciencational Sssnakes and Fire Truck displays. Glendonwynne Rd. will host games from 10 a.m. to 4 p.m. All other Activity Centres run from 10 a.m. to 5 p.m.
A variety of strolling entertainers will mingle with the crowd throughout the entire festival location. Look for balloon sculptors, stilt dancers, a Mariachi trio, Wendal the Puppet, a Dixie trio and more.
The Bloor West Village will be the perfect place to celebrate summer with the entire family this weekend.
When: Saturday, July 13 from 9 a.m. – 11 p.m.
Where: Bloor West Village. Main Stage at Windermere Ave, plus 5 Activity Centres stretching from Glendonwynne Rd. to Jane St.
http://www.bloorwestvillagebia.com/home/item/60-bloor-west-village-bia-summer-street-festival
FS Local is a Canadian Web business directory based in Toronto, Ontario. The company provides Internet marketing, advertising and consulting services for small businesses, with focus on local social media web marketing solutions. Bloor West Village BIA works with FS Local to support Toronto local businesses in the community.