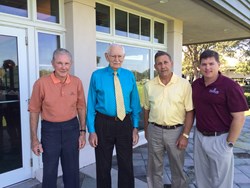 "This whole foundation was started on the backs of the construction industry and it still is." - Jack Cox, President of Suncoast Charities
Sarasota, FL (PRWEB) January 08, 2014
When Foghat takes the stage Thursday in Sarasota, FL to kick off Thunder by the Bay motorcycle festival, the British rockers will also mark the 30th year that Suncoast Charities for Children has been orchestrating many of Southwest Florida's top tourism events, including the Super Boat Grand Prix, the Christmas Boat Parade of Lights and the Fisk and Friends Celebrity Golf Tournament.
The boat show alone provided a $17 million boost to the local economy last year, but more significantly, the net proceeds from all its events enabled Suncoast Charities for Children to fulfill its mission of building and maintaining special needs facilities such as the Loveland Center and Children First.
"We always have some type of project going on," said Jack Cox, Suncoast Charities' president, and owner of Lakewood Ranch based Halfacre Construction Company. "We broke ground on a new $55,000 sensory center at Loveland Center and we've been working with Community Haven on a reroof project. A lot of what we do is not glamorous, but you've got to have a roof."
As popular as Suncoast Charities' events have been, most people do not know the scope of what the organization has accomplished in its thirty-year history. It built the Gene Whipp Sports Center for Special Athletes in Venice, Community Haven group home in Sarasota, The Florida Center, the Loveland Center and Children First in North Port. It has constructed about $14 million in facilities, totaling about 73,000 square feet. It rents them to the nonprofits for about $1 a year, enabling the organizations to spend their precious programming dollars on the children.
The Suncoast Charities' founders include Hollis Tucker, owner of Arrow Plumbing; John Stafford, chairman of FCCI Insurance; Ron Foxworthy, president of Arrow Plumbing; Cal Erb and the late Gene Whipp, whose passion for powerboat racing and helping children brought everyone together. It was Whipp's idea to host the first annual offshore powerboat race in Sarasota. The founders group pulled it together in 11 weeks and they ended up raising about $110,000. The events grew and now include a fashion show, a parade of boats and a fishing day for the physically and mentally challenged.
"Each one of us has our own reasons," for being so committed to the organization, said Bob Flanders, one of the original members whose Quality Walls Enterprises has donated much of the stucco work on the buildings Suncoast Charities has built. "I had a niece born profoundly disabled and she had never been out of bed in all 40 years of her life; it kind of weighs on you."
The founders group over the years went about building and getting their suppliers to donate in-kind services and materials.
"It was all subcontractors that started the program," Cox said. "This whole foundation was started on the backs of the construction industry and it still is."
Suncoast Charities for Children is a 501C3 serving Florida children with special needs and their families in the Sarasota, Venice, and North Port Areas. Over the past 29 years, $14 Million in facilities have been constructed (totaling 73,000 square feet). Net proceeds raised from various festivals and special events produced by Suncoast Charities for Children, provides funding to maintain some of these facilities and support special projects.