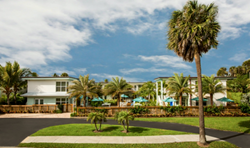 There is an exciting trend in the hotel business that many hoteliers are embracing. It is a trend towards smaller hotels, under 75 units, that take in to consideration the sentiment that guests like to feel recognized and be a part of a unique experience
Boynton Beach, FL (PRWEB) June 28, 2016
Sun Dek Beach House, Boutique Hotel, today announced that it has received a TripAdvisor® Certificate of Excellence. This achievement celebrates hospitality businesses that have earned great traveler reviews on TripAdvisor over the past year. Certificate of Excellence recipients include accommodations that are located all over the world that have continually delivered a quality customer experience.
There is an exciting trend in the hotel business that many hoteliers are embracing. Some brands are now creating "Lifestyle" or "Boutique" hotels to follow the trend. I would say "These hotels are typically on the smaller side, with less than 75 rooms and take into consideration that the guests like to feel recognized and to feel part of a unique experience" comments General Manager, Gloria McMillan.
Boynton Beach's new and only boutique hotel, has been serving guests from around the world for 18 months. "We opened our doors November 1st, 2014. We have provided guests the opportunity to enjoy a home away from home experience", remarks McMillan
Sun Dek Beach House is the vision of owner Robert Wolfenden who lived in Los Angeles and has recently moved to Ocean Ridge. While working on projects at properties he owns, Wolfenden stayed at many of the boutique hotels in Boca Raton, Delray Beach and Palm Beach County. he had always dreamed of owning a hotel, after staying at these places he saw the potential of creating a charming as well as unique place for visitors. He purchased Sun Dek in early 2011, completely renovating the entire property from top to bottom offering a remarkable traveling experience.
Sun Dek Beach House is a delightful 17-suite boutique hotel that offers studios, one and two-bedroom suites that provide ultimate comforts for the guests so they can feel as if they are at their home away from home. It conveys to the visitor a combination atmosphere of upscale and that old Florida beach attitude. "There is a lovely path to the ocean we have coined "The Enchanted Forest", which the guests thoroughly enjoy. After a day at the beach guests can relax by the pool or have an enjoyable BBQ" remarks General Manager, Lonny Wolfe
Ms. McMillan and I are honored to receive the Certificate of Excellence and feel humbled by the overwhelming positive guest response that the hotel has received, comments Mr. Wolfe
About Sun Dek Beach House
Located on the coast, between Palm Beach and Delray Beach, our newly renovated property is complete with every amenity you could want to make a stay in South Florida comfortable and stress-free.
Just steps from the beach, Sun Dek is perfectly situated between the Atlantic Ocean and the Intracoastal Waterway on historic A1A. We offer studios, one-bedroom and two-bedroom suites, all with full kitchens, to serve as a short-term vacation rental or an extended-stay rental.