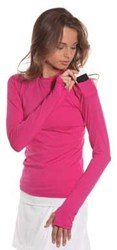 Summer may be ending, but not the high temperatures.
San Diego, CA (PRWEB) August 06, 2013
SunGrubbies.com, a leading online retailer of sun protective products, has clothing that offers excellent protection against damaging UV (ultraviolet) sun rays.
Summer may be ending, but not the high temperatures. Beat the heat with Ultralight Sun Protective Tees that are designed with the sports enthusiasts in mind. Available for men and women, these breathable tees are made from a combination of organic cotton, bamboo and eslastane that result in a tee that blocks 98% of UV rays and is anti-odor. These shirts also possess an added feature known as "moisture wicking" which means moisture is moved away from the skin for a cooler feel. These shirts are extremely comfortable and are manufactured without any added chemicals.
Women will find the fashionable Pocket Sleeve Tee a great summer option. Lightweight and breathable, this brightly colored shirt offers excellent sun protection and feels great against the skin. Men will find The Men's Everyday Polo an excellent choice for heat relief. This shirt was designed to be the most comfortable shirt in the closet. The wicking features in all of these shirts provide cool comfort on hot days.
SunGrubbies.com also has a selection of water shirts and rash guards that can be worn in chemically treated, salt or fresh water. These shirts offer great sun protection in the water and will keep the skin cooler when worn wet on land.
Damaging UV rays are the number one cause of premature aging as well as skin cancer. To keep skin youthful and healthy it is important to cover exposed areas of the skin. Fabric will provide the best barrier to UV rays. If skin cannot be covered, wear sunscreen and seek shade whenever possible.
Since the founding of the company in 1997, the mission of SunGrubbies.com has been to provide attractive and comfortable sun protective clothing and accessories of the highest quality and reliability at affordable prices. Many of their products have been approved and recommended by the Skin Cancer Foundation and the Melanoma International Foundation. Every product has been laboratory tested for their sun protective ability and every purchase is 100% guaranteed.
Visit http://www.sungrubbies.com for more information about their sun protective products. They can also be reached toll free at (888) 970-1600. Check them out on Facebook. To join the SunGrubbies.com affiliate program, go to http://bit.ly/ifRDrH. Their boutique showroom and hat shop located in San Diego is open by appointment.