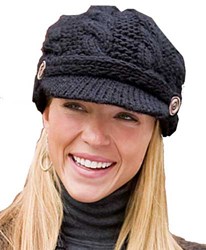 SunGrubbies.com expands their gift giving options just in time for the holidays.
San Diego, CA (PRWEB) November 20, 2013
A warm gift for cold hands is The Inferno Battery Heated Gloves. These full grain leather gloves are waterproof and will provide battery powered heat at the touch of a button. The three heat settings will provide two to six hours of reliable warmth to the hands of that special someone.
Thoughtful gifts for women who have lost their hair due to medical conditions or treatments are beautiful head scarves. These lovely chemo scarves are a fashionable alternative to other head coverings. They are comfortable to wear and gentle to the scalp and an added bonus is their versatility. Different looks can be created by the numerous ways to tie the ends of the scarf. The result is an ultra feminine look that can help boost self confidence.
For the fashion plate on the gift list, there is The Miranda Cable Knit Cap and the Melbourne Winter Fashion Hat. These two stylish winter hats are fun and trendy. Designed to flatter any face, these warm hats will help keep winters chill at bay.
Pair either of these hats with the Colleen Cable Knit Scarf. The chunky knit of this cozy scarf will make it a cool weather favorite and is the perfect compliment to any winter outfit.
SunGrubbies.com is a leading online retailer of sun protection products. Visit their website, http://www.sungrubbies.com for great holiday gifts.
SunGrubbies.com is also pleased to offer winter items that are not rated sun protective. Check out their "Just 4 Fun" section on their website to find the above mentioned items.
SunGrubbies.com can be reached toll free at (888) 970-1600 and they can be found on Facebook. To join the SunGrubbies.com affiliate program, go to http://bit.ly/ifRDrH. The sungrubbies.com Hat Shop is located in San Diego and is open by appointment.