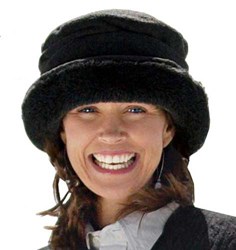 San Diego, CA (PRWEB) October 29, 2013
SunGrubbies.com, a leading online retailer of sun protective products, has just added a new section to their website called, "Just 4 Fun".
Unlike the other products offered by SunGrubbies.com, Just 4 Fun items are not rated sun protective. These items are a collection of products that SunGrubbies.com discovered as they shopped the world for sun protective merchandise for their customers. SunGrubbies.com was so impressed with what they found, that they felt they had to offer these items on their website.
Check out Just 4 Fun to see fashionable winter hats for women, warm cozy scarves and chic leather gloves. This is also the site to find high tech winter sport gloves that are perfect for the ski slopes and cold weather.
For example, the Inferno Battery Heated Gloves are waterproof full grain leather gloves that provide battery powered heat at the touch of a button. Choose between three heat settings for two to six hours of reliable warmth to the hands.
Other featured gloves include the Stratos Gloves with Heat Pack Pocket and the Touch Screen Winter Gloves. The Stratos Gloves are designed for men and come with a Gore-Tex insert that makes these gloves waterproof and breathable. The heat pack provides warmth so hands will stay warm, dry and comfortable even in the coldest weather.
The innovative Touch Screen Winter Gloves are a great choice for men or women. They have patent pending soundtouch touchscreen pads on the finger tips that allow for a constant connection to iPads, iPhones, or any other electronic devices.. Thin and breathable, the form-fit design and four-way stretch properties allow for maximum dexterity.
Unique products like the Dynamax Quick Combo can also be found on the Just 4 Fun site. This balaclava ski mask has the versatility to allow for four looks. It can be worn as a hat, neck gaiter, a hat with neck gaiter or as a face mask. The fabric blocks the wind so the face and neck kept warm. And for added comfort, this fabric has the ability to move moisture away from the skin and dry quickly.
and dry quickly.
Check out http://www.sungrubbies.com for more information about the Just 4 Fun collection as well as their sun protective products. They can be reached toll free at (888) 970-1600 and they can be found on Facebook. To join the SunGrubbies.com affiliate program, go to http://bit.ly/ifRDrH. The sungrubbies.com Hat Shop is located in San Diego and is open by appointment.