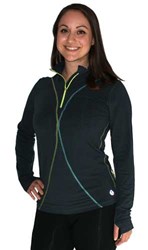 It is never too late to start protecting your skin. Be sun smart and make it a daily activity.
San Diego, CA (PRWEB) October 15, 2013
SunGrubbies.com, a leading online retailer of sun protective products, has added four new stylish sun protective tops that are designed to block 98+ of damaging UV (ultraviolet sun rays).
Year round sun protection is important because UV rays can damage skin regardless of the time of year. More than 90% of skin cancers are the result of excessive sun exposure. In addition, UV rays are the number one cause of premature aging.
The Vented Zip Top and the Ultralight V-neck Tee are made from chemical free fabrics that feel good against the skin. These breathable tops also come with the added features of moisture-wicking, which moves moisture away from skin and natural anti-odor properties that help to keep the fabric smelling fresh at all times. Both of these tops offer extra-long sleeves with the Vented Zip Top offering thumb holes at the end of the sleeves for hand protection. The top of the hand is an area of the body that is often neglected and is quick to show signs of premature aging.
The Mock Zip Top and the UV Crop Top are flattering and fashionable tops that offer a more fitted look. They offer excellent comfort because the fabric is designed to move with the body.
These two tops also have the added features of moisture wicking and anti-odor properties and the elongated sleeve length that provides sun protection to the hands. The UV Crop Top is also ideal for layering this fall and winter.
It is never too late to start protecting skin. Be sun smart and make it a daily activity. The best plan is to combine with sun protective products with sun safety to get the maximum protection.
Sun protection products are available for adults, children and infants.
Since the founding of the company in 1997, the mission of SunGrubbies.com has been to provide attractive and comfortable sun protective clothing and accessories of the highest quality and reliability at affordable prices. Many of their products have been approved and recommended by the Skin Cancer Foundation and the Melanoma International Foundation. Every product has been laboratory tested for their sun protective ability and every purchase is 100% guaranteed.
Check out http://www.sungrubbies.com for more information about their sun protective products. They can be reached toll free at (888) 970-1600 and they can be found on Facebook. To join the SunGrubbies.com affiliate program, go to http://bit.ly/ifRDrH. The sungrubbies.com Hat Shop is located in San Diego and is open by appointment.