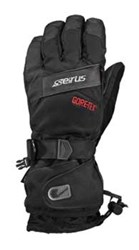 San Diego, CA (PRWEB) December 10, 2013
Burn up the slopes with the Stratos Gloves with Heat Pack Pocket. Designed for men, these gloves offer optimum hand protection. The Gore-Tex insert makes these gloves breathable and waterproof while the heat pack provides warmth to keep hands warm, dry and comfortable even in the coldest winter weather.
Two to six hours of radiating and reliable warmth can be found with the Inferno Battery Heated Gloves. These gloves come with an exclusive heat panel that provides heat at the touch of a button. Choose between three setting to find the desired comfort level. These premium full-grain leather gloves are waterproof and breathable and are appropriate for men and women
The Touch Screen Winter Gloves make a great gift for men or women. These state-of-the-art gloves have soundtouch touchscreen finger tip pads that allow for constant contact to iPad, iPhones, and any other electronic device without removing gloves; a wonderful feature for a long chair ride. Thin and breathable, these gloves are designed with four-way stretch properties that allow for maximum dexterity.
SunGrubbies.com is a leading online retailer of sun protection products. Visit their website, http://www.sungrubbies.com for great holiday gifts and check out the "Just 4 Fun" section on the SunGrubbies.com website to find these warm gloves and other exciting winter products.
Please note that unlike other products on the SunGrubbies.com website, the "Just 4 Fun" collection is not rated sun protective.
SunGrubbies.com can be reached toll free at (888) 970-1600 and they can be found on Facebook. To join the SunGrubbies.com affiliate program, go to http://bit.ly/ifRDrH. The sungrubbies.com Hat Shop is located in San Diego and is open by appointment.