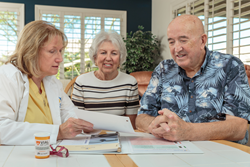 The care transitions team at Sun Health has been extremely successful helping many frail elderly make smooth transitions during that vulnerable period from hospital discharge through the first 30 days at home.
SURPRISE, ARIZ. (PRWEB) March 28, 2017
A program operated by Sun Health since 2011 has been able to significantly reduce hospital re-admissions for nearly 12,000 Medicare patients, resulting in $14.8 million in savings to the Medicare program.
The Sun Health Care Transitions (SHCT) program reduced re-admissions to an average of 7.81 percent, far below the national re-admission rate of 17.8 percent. The higher rate would have cost Medicare an estimated $26.3 million. SHCT's lower admission rate lowered the cost to an estimated $11.5 million, saving Medicare $14.8 million.
"The care transitions team at Sun Health has been extremely successful helping many frail elderly make smooth transitions during that vulnerable period from hospital discharge through the first 30 days at home," said Mary Ellen Dalton, president and CEO of Health Services Advisory Group, the Quality Innovation Network-Quality Improvement Organization designated by CMS.
In fact, the SHCT program's rates were the lowest of all programs chosen to take part in a recently concluded five-year demonstration project conducted by the U.S. Centers for Medicare and Medicaid Services (CMS).
CMS launched the Community-Based Care Transitions demonstration project in 2012, to explore new solutions for reducing hospital re-admissions, improving quality and achieving measurable savings for Medicare.
Sun Health's program was the only project invited by CMS to present at the 2016 CMS Quality Conference held last December. And it was featured as a "success story" in a video produced by The Lewin Group, a CMS contractor that provided technical assistance during the demonstration project.
"While the program has achieved impressive numbers, its impact on individual patients is the best measure of its effectiveness," says Sun Health Executive Vice President Jennifer Drago, who oversees the program, which is still thriving after the demonstration project ended.
"Our patients are better educated about their conditions, medications and warning signs, and better-connected to community resources that can help them stay healthy. This results in patients who have lower overall health care costs and a higher quality of life."
Sun City West resident Jerry Solomon and his wife Sandra saw the program in action after Jerry was hospitalized at Banner Del E. Webb Medical Center in Sun City West for heart problems. A social worker from SHCT visited Mr. Solomon in his hospital room shortly before he went home and told him about the program, which is offered at no cost to patients. The retired executive and entrepreneur accepted the offer and was glad he did.
"After being in the hospital for six days, all I could think of was going home. Sandra and I tried to take in all the discharge instructions the hospital nurse gave us, but when we got home, we realized we still had questions," Solomon said.
A day later, a registered nurse from SHCT made a scheduled visit to check on the Solomons. The nurse reviewed Jerry's vital signs, educated the couple on his diagnosis — including warning signs to watch for — and helped him prepare an up-to-date medication profile, including information on several new prescriptions. The nurse also made sure he had his follow-up physician visits scheduled and taught him how and when to check his blood pressure.
Sandra Solomon felt relieved. "The nurse was able to answer our questions, which did a lot to ease our minds, and she told us we could call the office (Care Transitions) any time, any day and get our questions answered. That was reassuring to me."
The program, which is funded through a combination of grants and contributions from Sun Health Foundation donors, is branching out to serve other health care providers, hospitals and accountable care providers working to get a handle on high re-admission rates for their patients. Sun Health is also launching a chronic care management program designed to work with physicians and physician groups to teach their patients how to manage and live healthy with their chronic health conditions.
"We've had great success helping patients recover from hospitalizations and learn about their health conditions and now we're ready to share our expertise with a wider audience," Drago said.
For more information, visit http://www.shcaretransitions.org, or call 623-832-4399.
About Sun Health
A long-standing champion of healthy living and superior health care, Sun Health is a community-based nonprofit providing pathways to population health through philanthropy, community wellness programs and services, and senior living communities and programs. Sun Health Community Wellness includes the Centers for Health & Wellbeing, Care Transitions, Medication Management, Memory Care Navigator, Vial of Life/File of Life, and Community Education programs.