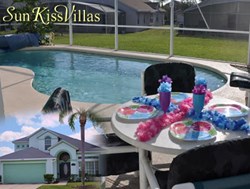 Our BBB Accreditation gives our guests confidence in our commitment to maintaining high ethical standards of conduct.
Davenport, FL (PRWEB) September 05, 2013
This week, SunKiss Villas announced its recent accreditation by the BBB Serving Central Florida. As a BBB Accredited Business, SunKiss Villas is dedicated to promoting trust in the marketplace.
According to BBB reports by Princeton Research, seven in ten consumers say they are more likely to buy from a company designated as a BBB Accredited Business. BBB is a resource for the public, providing, objective, unbiased information about businesses.
"We are pleased to be BBB Accredited because we value building trust with our guests," said Mark Douglas, CEO of SunKiss Villas. "Our BBB Accreditation gives our guests confidence in our commitment to maintaining high ethical standards of conduct. Our guests deserve to have a wonderful vacation and we strive to give them exactly that, a wonderful vacation experience. "
BBB Accredited Businesses must adhere to BBB's "Standards of Trust," a comprehensive set of policies, procedures and best practices representing trustworthiness in the marketplace. The standards call for building trust, embodying integrity, advertising honestly and telling the truth, being transparent, honoring promises, being responsive and safeguarding privacy.
About SunKiss Villas
SunKiss Villas – offering beautiful, private vacation home rentals near Disney World, Florida. Located in Davenport, Florida with an A+ rating from the Better Business Bureau of Central Florida, SunKiss Villas is a trusted source for quality vacation home rentals and property management. Founded in 1999 SunKiss Villas continues to grow and offers families beautiful vacation homes to make memories that will last a lifetime. Go to: http://www.sunkissvillas.com for information on any of our Disney area vacation homes. "Your Disney World Vacation Starts Here!"
SunKiss Villas – Disney Vacation Home Rentals
433 Downing Circle
Davenport, FL 33897
Phone: 407-479-8580
Website: http://www.sunkissvillas.com
About BBB
BBB's mission is to be the leader in advancing marketplace trust. BBB accomplishes this mission by creating a community of trustworthy businesses, setting standards for marketplace trust, encouraging and supporting best practices, celebrating marketplace role models and denouncing substandard marketplace behavior.
Businesses that earn BBB Accreditation contractually agree and adhere to the organization's high standards of ethical business behavior. BBB is the preeminent resource to turn to for objective, unbiased information on businesses and charities.
Contact BBB serving Central Florida at 407-786-9008.