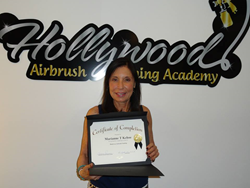 She teaches all you need to know from A to Z and even offers business support for you after you graduate and as a business owner that is extremely beneficial.
Los Angeles, CA (PRWEB) June 06, 2014
Hollywood Airbrush Tanning Academy proudly announces the certification of their student Marianne Kehoe from Studio City, California. Marianne is already an established professional in the beauty and wellness market with over two decades of experience as an esthetician. Her popular skin studio Marianne Kehoe Skin Studio is now offering airbrush tanning services throughout the valley area. Hollywood Airbrush Tanning Academy is America's leading spray tanning training destination offering practical guidance on all aspects of sunless tanning. Led by acclaimed airbrush tanning expert Simone Emmons, Hollywood Airbrush Tanning Academy has assisted many of their students start their independent spray tanning business.
As an esthetician, Marianne's training started with the founder of the Face Place in West Hollywood, Ernie Benson. Since the inception of her own skin studio in 2012, she has implemented the Derma culture IDERM process, a deep pore cleansing facial treatment that uses a galvanic current to drive vitamins and minerals deep into the skin. The IDERM process helps repair, refresh, tighten and hydrate the skin from the inside out, and is a progressive treatment for both men and women. It has always been Marianne's top priority to address the skin concerns of her clients in a healthy, natural, and non-surgical manner. In an effort to expand her business, she has recently started offering a full spectrum of far infrared sauna which has a wide variety of health benefits. Now, with the inclusion of spray tanning, Marianne Kehoe is looking to offer premium quality airbrush tanning services to all her clients.
Talking about the reason behind her interest in spray tanning, Marianne said, "Growing up, I was always outside in the sunshine and loved how I looked after getting a tan. As an adult, I still wanted that beautiful glow but didn't want the harmful effects from the sun that came along with it. The majority of people, especially in California, love the look of a sun kissed tan so to give them a healthier alternative I wanted to learn how to spray tan." Discussing her business goal, she also added, "Our goal is to give our clients a more natural sun kissed look with our organic, alcohol-free solution. We want to boost our client's confidence, and that means having everyone walk out looking like they have just got back from being on vacation, and never looking unnatural."
Marianne also thanked Simone Emmons for her unique spray tanning technique and facilities. "Simone's technique is so thorough that you will never leave anyone looking streaked and everyone looks completely natural. She teaches all you need to know from A to Z and even offers business support for you after you graduate and as a business owner that is extremely beneficial," she said.
To find out more about Marianne and her business, please visit http://www.mkskinstudio.com or call 818-509-0384.
About Hollywood Airbrush Tanning Academy:
Hollywood Airbrush Tanning Academy is located in Los Angeles, California and offers an extensive Airbrush Tanning Certification program to anyone who wishes to learn spray tanning. Simone Emmons, the creator of the spray tanning training program, has been a professional, licensed spray tanning technician and teacher and has helped numerous entrepreneurs from Louisiana, Kentucky, Idaho, Utah, Colorado, Nevada, Minnesota, Texas, Georgia, Arizona, Alabama, South Carolina, North Carolina, Illinois, Indiana, Washington, Oregon, Florida, Oklahoma, Alaska, Ohio, California, New York, Canada and the Island of Hawaii and Trinidad start a business in Airbrush Tanning. The spray tanning program is unique because it provides hands-on and private spray tanning training to individuals who want to start an Airbrush Tanning Business. According to Emmons, this spray tanning program gives individuals a leading edge in starting an Airbrush Tanning business immediately after finishing with the training. Students have the option to choose from a full day course of 10-12 hours or two half day courses of 5-6 hours a day or through live video conferencing. The academy is also launching a website soon so students can learn Airbrush Tanning Online. Many tanning training institutions only educate students on their own equipment and products they sell; however, Hollywood Airbrush Tanning Academy does not sell any of their own products and provides training and education on all equipment and good products in the airbrush tanning industry.
Individuals interested in learning spray tanning and starting their own Airbrush Tanning Business should visit the website at Hollywood Airbrush Tanning Academy, or for more detailed information about the airbrush tanning classes, visit 1DaySprayTanTraining.com.