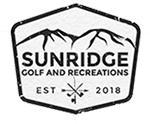 "The improvements we have made have been critical. I think our players and community really feel heard and word has gotten out that we are investing in the course and want to make sure we see it to its full potential." - General Manager Ken Stotts
CARSON CITY, Nev. (PRWEB) August 15, 2018
Golf play at Sunridge Golf and Recreations, a more than 20-year-old golf course in Carson City, is up more than thirty percent since June of last year.
"The improvements we have made have been critical," said General Manager Ken Stotts. "I think our players and community really feel heard and word has gotten out that we are investing in the course and want to make sure we see it to its full potential."
Sunridge Golf and Recreations, which came under new ownership in February 2018, is a 19-hole course on the southern edge of Carson City near the intersection of Jacks Valley Road and U.S. Route 395. Over the course of the last several months, more than $500,000.00 has been invested into the course. A majority of the money was spent on new cutting equipment, as well as investing in 50 new Yamaha gas-powered golf carts which are better suited for the varying terrain and temperatures of an Eastern Sierra course.
"The greens and fairways are in better shape than they have been in for more than 15 years," stated long-time member and Carson City resident Don Lindeman. "It's a great value course and a beautiful location. I'm just glad someone like (Dan Oster) was able to see its value and is here to stay."
Oster, who is originally from Carson City, is a regional real estate investor and commercial real estate broker. Since he took over in February, he enlisted regional experts Duncan Golf Management to assist with executing major improvements to the course. In addition to course improvements, Oster and his team have rolled out a new archery course, opened the trails to runners and walkers in the early mornings and at dawn, and just announced he will have additional activities added on an almost monthly basis including hatchet throwing and bounce houses for kids.
About Sunridge Golf & Recreations
Sunridge Golf & Recreations is a 19-hole golf course and activity center on the eastern slope of the Sierra just outside of Lake Tahoe. Located on the south side of Carson City and near the base of Lake Tahoe's East Shore, it's easily accessible and offers year-round activity for the whole family. Complete with a pro shop, bar and grill, running trails, practice facilities, an archery and hatchet throwing course, bounce houses, and an events center, Sunridge Golf & Recreations is determined to make it a great day every day of the year. For more information, visit http://www.sunridgegc.com.
About the NALA™
The NALA offers small and medium-sized businesses effective ways to reach customers through new media. As a single-agency source, the NALA helps businesses flourish in their local community. The NALA's mission is to promote a business' relevant and newsworthy events and achievements, both online and through traditional media. The information and content in this article are not in conjunction with the views of the NALA. For media inquiries, please call 805.650.6121, ext. 361.