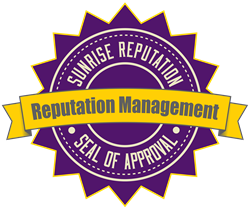 Austin, Texas (PRWEB) May 04, 2014
Sunrise Reputation has announced the introduction of a variety of new reputation management campaigns for use in Austin in 2014. The company has long been using specificity in their campaigns, but these new campaigns are designed to not only be tailored to the individual client or business, but also to the region in which the client or business happens to reside.
The company has developed a reputation for innovative techniques in the field of reputation management, and as the field has grown rapidly over the past decade, Sunrise Reputation has continued to be at the forefront in terms of the effectiveness of their current services and the development of new services for use in campaigns.
"We are very pleased to announce the availability of these new campaign techniques for use in Austin," said Brandon Hopkins of Sunrise Reputation. "We are always trying to make our campaigns as specific as possible, and we believe that the specificity we have achieved in these new campaigns should bring our clients the best results possible."
Hopkins went on to note just how important the management of an online reputation can be. According to Hopkins, there are a number of consequences that individuals and businesses suffer as the result of allowing an inaccurate or misleading online reputation to remain. Individuals may suffer from an inability to find employment, or they may be limited in how much they can earn. Interpersonal relationships may also suffer, as more and more people are using search engines to look up information about the people with whom they associate.
The damage that can be done to businesses is also quite severe. Every company is cognizant of their profitability and takes every measure possible to protect their bottom line, but a poor online presence can have a profoundly negative impact. Many companies will have their viability threatened if a negative online reputation is allowed to remain.
"Even though the impact of a negative online reputation is extremely serious, there are methods that we can use to help," said Hopkins. "It is important that anyone who is dealing with the effects of a poor online reputation take corrective action as soon as possible."
Sunrise Reputation
Sunrise Reputation was founded with one goal in mind: helping businesses and individuals clean up and maintain a positive online reputation. Sunrise Reputation is an experienced reputation management company that specializes in public relations, marketing, media management, press releases, search engine optimization (SEO) and link building. For more information about Sunrise Reputation or how the company can help you with a reputation problem contact them by phone at 559-871-1613, email brandonchopkins@gmail.com, or online at SunriseReputation.com.