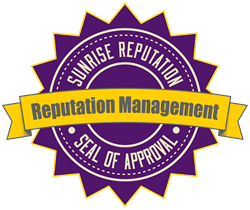 Charlotte, NC (PRWEB) May 08, 2014
Reputation management firm Sunrise Reputation has announced that they have made a number of upgrades to their existing service offerings in the Charlotte area. The company, highly regarded throughout the reputation management industry for their consistent ability to yield positive results, believes that the new service upgrades will result in improvements to reputation management campaigns that have already been proven to be exceptionally effective.
The upgrades have focused primarily on streamlining the processes that begin with initial consultation with the client to the initial onset of the reputation management campaign. The company feels that by expediting this portion of the process, clients will be able to begin seeing effective results in a shorter time period.
"By no means do we think our services need an upgrade, but we believe that we can make our services even more efficient than they currently are," said Brandon Hopkins of Sunrise Reputation. "Anytime we see an opportunity to improve our services in a way that better serves our clients, it is in the best interests of everyone involved to thoroughly explore that opportunity."
That the company is so focused on constantly making improvements to their services should come as no surprise. Sunrise Reputation has long believed that the consequences of a poor online reputation are too severe to be taken lightly. It should be increasingly clear that individuals who have any negative information posted on the Internet may have their livelihoods and their interpersonal relationships affected. For businesses, profits may immediately suffer in a significant way when negative information is made available on the Internet.
"We are very pleased that these new upgrades will allow us to better serve our clients in the Charlotte area, as we have a very clear idea how people and businesses are affected by their online presence," said Hopkins. "It is our goal to ensure that our clients no longer have to endure any negative consequences resulting from information that is inaccurate, misleading or outdated. Our services are designed in such a way that our clients are able to transform their negative online presence into a positive one by using accurate and relevant information."
Sunrise Reputation
Sunrise Reputation was founded with one goal in mind: helping businesses and individuals clean up and maintain a positive online reputation. Sunrise Reputation is an experienced reputation management company that specializes in public relations, marketing, media management, press releases, search engine optimization (SEO) and link building. For more information about Sunrise Reputation or how the company can help you with a reputation problem contact them by phone at 559-871-1613, email brandonchopkins(at)gmail(dot)com, or online at SunriseReputation.com.