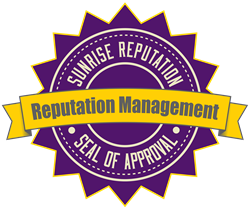 (PRWEB) September 16, 2014
Online reputation management firm Sunrise Reputation has announced the availability of a number of new online reputation management services that include those designed specifically for credit card companies. Many credit card companies rely heavily on their online reputations, which can be severely damaged at a moment's notice due to the easily accessible and highly visible nature of the Internet.
The new online reputation management services that are now available from Sunrise Reputation address the many unique issues that are only faced by credit card companies, a very valuable fact given the importance of maintaining a positive online reputation. Allowing negative, misleading or inaccurate information to linger on the Internet can result in some very serious issues for credit card companies, as many prospective customers will seek credit elsewhere if there is any concern raised by a simple Internet search. Credit card companies should undoubtedly seek to avoid the resulting long-term viability issues.
"We are very excited to introduce our new online reputation management services, as we believe that credit card companies can significantly benefit from these highly customized services," said Brandon Hopkins of Sunrise Reputation. "We have worked very diligently to create these services so that they are completely tailored to the needs of credit card companies as they relate to online reputation management issues."
The new services, which are available immediately, have been thoroughly tested for efficacy by Sunrise Reputation. Over the course of many years in the industry, the online reputation management firm has become known for such thorough practices. The firm has acknowledged that this attribute is an important component of its longstanding success in the industry.
"We feel that it is very important that we painstakingly test every service offering that we develop so that we know it will be exceptionally effective when we utilize it in an online reputation management campaign," said Hopkins. "These particular services that are now available for credit card companies have been tested in this way, and we have determined that these services can generate exceptional and overwhelmingly positive outcomes for our clients."
Sunrise Reputation
Sunrise Reputation was founded with one goal in mind: helping businesses and individuals clean up and maintain a positive online reputation. Sunrise Reputation is an experienced reputation management company that specializes in public relations, marketing, media management, press releases, search engine optimization (SEO) and link building. For more information about Sunrise Reputation or how the company can help you with a reputation problem contact them by phone at 559-871-1613, email brandonchopkins(at)gmail(dot)com, or online at SunriseReputation.com.