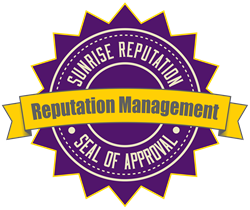 Orlando, Florida (PRWEB) March 12, 2014
Reputation management firm Sunrise Reputation has had a limited presence in the state of Florida for quite some time. The company recently announced that they would be expanding that presence, while also offering a number of new services in the area for individuals or businesses in need of the company's assistance.
Sunrise Reputation, a firm that has been a leader in the reputation management industry for many years, believes that Floridians can benefit greatly from the services they offer. Whether it is a comprehensive and aggressive marketing plan or the restoration of a positive online presence, the company now offers all of their services to Florida residents.
"Ultimately, it has always been our goal to help as many people as we possibly can through our services," said Brandon Hopkins of Sunrise Reputation. "This Florida expansion will allow us to help more individuals and more businesses present a more accurate reflection of who they truly are."
The company employs a number of different strategies as they attempt to restore the reputations of their clients. Through the use of press releases, back-linking and marketing strategies, Sunrise Reputation is able to decrease the impact that a negative online presence can have. According to Hopkins, the impact of a negative online reputation can be devastating.
"It is somewhat hard to fathom, but there are so many people out there who do not even realize their reputation is an issue," said Hopkins. "Not many people put their own name in a search engine, but the results are sometimes quite troubling."
These results often impact the decision of human resource managers as they determine who to hire or who to fire. This is concerning due to the fact that this information often comes from sources that are unverifiable.
"It is a real problem," said Hopkins. "Life-altering decisions are being made based upon outdated or inaccurate information."
The company believes that through the use of their services, the impact of a negative online reputation can be significantly reduced.
"Opinions may be permanently shaped by an inaccuracy," said Hopkins. "People often believe everything that they read, even when they should not. It can have a tremendous impact on someone's life. I just hope that we can help people avoid this from happening to them."
Sunset Reputation was founded with one goal in mind: helping businesses and individuals clean up and maintain a positive online reputation. Sunset Reputation is an experienced reputation management company that specializes in public relations, marketing, media management, press releases, search engine optimization (SEO) and link building. For more information about Sunset Reputation or how the company can help you with a reputation problem contact them by phone at 559-871-1613, email brandonchopkins(at)gmail(dot)com, or online at SunsetReputation.com.