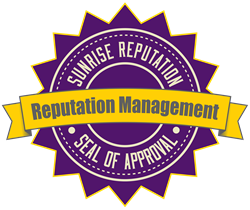 Fresno, California (PRWEB) May 25, 2014
Businesses in the Fresno area can now benefit from the specialized reputation management services offered by Sunrise Reputation. The reputation management company has announced that they are now offering services that are specifically designed for businesses in the Fresno area, an announcement that should be received very well by any company that may be suffering as the result of a negative online reputation.
It seems that many businesses are victimized by information posted to the Internet that is inaccurate, misleading, outdated or patently false. It is often the case that competing businesses or disgruntled employees will target businesses in order to achieve some measure of revenge, a strategy that is actually quite effective. This frustrating fact has led Sunrise Reputation to design certain services that are tailored to the very specific needs of each individual business that they serve.
"A negative online reputation can be particularly damaging to a company, and time is very much a factor in these cases," said Brandon Hopkins of Sunrise Reputation. "More and more people are becoming completely reliant on the information they find on the Internet, and they can and will judge a business based on the information that they find there, regardless of the accuracy of the information."
According to Hopkins, it is very important for businesses to act quickly when they are in need of corrective action. Hopkins also noted that while a quick response is best, the passage of time does not mean that reputation management services will not be helpful.
"It is always better to take corrective action than it is to do nothing," said Hopkins. "The profitability of a business is very closely tied to their reputation, and the Internet is frequently the first place that potential consumers look."
Due to the fact that consumers do indeed place a great deal of value on the Internet reputation of any business, Sunrise Reputation believes that it is necessary to fervently protect that reputation from harm. This can be done quickly and easily through the use of one of Sunrise Reputation's new services that are specifically designed for businesses dealing with this sort of issue.
Sunrise Reputation
Sunrise Reputation was founded with one goal in mind: helping businesses and individuals clean up and maintain a positive online reputation. Sunrise Reputation is an experienced reputation management company that specializes in public relations, marketing, media management, press releases, search engine optimization (SEO) and link building. For more information about Sunrise Reputation or how the company can help you with a reputation problem contact them by phone at 559-871-1613, email brandonchopkins@gmail.com, or online at SunriseReputation.com.