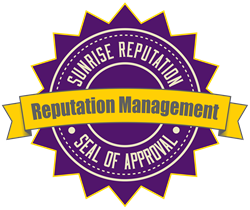 (PRWEB) August 20, 2014
Sunrise Reputation has announced that they have added a number of new servers with the specific goal of being able to handle more clients from the Greensboro area. The company has had a strong presence in the area for many years now, and the increasing demand has necessitated these upgrades in order for the company to be able to continue to serve their Greensboro clients in the manner in which they have become accustomed.
Greensboro, along with many areas throughout the entire nation, has been experiencing an increased need for the type of reputation management services that Sunrise Reputation offers, as more and more people and businesses are finding that any negative online information is causing them significant harm. Through the use of a number of established strategies, Sunrise Reputation has been able to help their many clients restore their good reputations.
There are many reasons why an individual or business would seek out Sunrise Reputation's services, as the effect of a poor online presence is quite significant. Businesses risk reductions in their profitability, as consumers routinely research the companies they patronize online well in advance. Any negative information greatly reduces the possibility that a customer will even give the company a chance to dispel the information that is available online.
Individuals face difficulty too, as there can be a great detriment to an individual's ability to find and maintain employment if there is negative information online. This is because many human resource managers conduct a part of their background check through a simple Internet search without taking into account the accuracy of the information they find.
"We have a very clear understanding of what many individuals and businesses are up against," said Brandon Hopkins of Sunrise Reputation. "The financial impact is significant, and the resulting emotional impact is immeasurable. While we never like to see anyone have to deal with issues such as these, it does give us a great deal of joy to help people who are in need of our assistance."
The new servers that have been added by Sunrise Reputation will not only allow the company to serve more clients, but it will also improve the expediency with which they are able to do so.
Sunrise Reputation
Sunrise Reputation was founded with one goal in mind: helping businesses and individuals clean up and maintain a positive online reputation. Sunrise Reputation is an experienced reputation management company that specializes in public relations, marketing, media management, press releases, search engine optimization (SEO) and link building. For more information about Sunrise Reputation or how the company can help you with a reputation problem contact them by phone at 559-871-1613, email brandonchopkins(at)gmail(dot)com, or online at SunriseReputation.com.