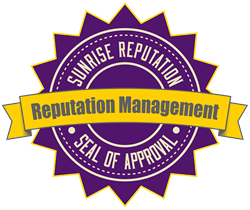 Decatur, Illinois (PRWEB) March 09, 2014
Sunrise Reputation has announced that they will continue to expand their company's service areas with the goal of assisting the many people in need of reputation management services. The most recent expansion will allow Sunrise Reputation to assist the citizens of Illinois, a market that the company has deemed underserved in terms of effective reputation management.
In addition to bringing their services to a new market, the company has also announced that they will be providing new and individualized reputation management campaigns to meet the varied needs of their clients. While the company has always modified their strategies based on the client, this new campaign plan is much more comprehensive in nature, allowing the company to be even more effective than ever before.
"We are always in a constant state of flux with regard to the strategies we use for our clients," said Brandon Hopkins of Sunrise Reputation. "This is the best way to ensure that our strategies continue to be effective for their reputation management goals. Though one particular strategy may be the most effective means at one point, it does not necessarily mean that it always will be. We have to consistently stay ahead of the curve."
To date, the company's strategies have been exceptionally effective. According to Hopkins, it is very important to Sunrise Reputation that they are able to serve their clients quickly and efficiently due to the impact that a poor online reputation can have on an individual or a business.
"The implications are absolutely tremendous," said Hopkins, referring to allowing a negative online reputation to go unchecked. "Some people just do not understand the serious effect that online information can have, but it is far-reaching."
The assumption that many people make, according to Hopkins, is that either no one will see the negative information or no one will believe it. Hopkins has seen firsthand that this is not the case.
"All it takes is one piece of negative information to ruin a career," said Hopkins. "For some reason, that one piece of negative information will carry significantly more weight than any other positive ones. To people in hiring positions, sometimes it is safer to just believe the worst about someone."
Sunset Reputation was founded with one goal in mind: helping businesses and individuals clean up and maintain a positive online reputation. Sunset Reputation is an experienced reputation management company that specializes in public relations, marketing, media management, press releases, search engine optimization (SEO) and link building. For more information about Sunset Reputation or how the company can help you with a reputation problem contact them by phone at 559-871-1613, email brandonchopkins(at)gmail(dot)com, or online at SunsetReputation.com.