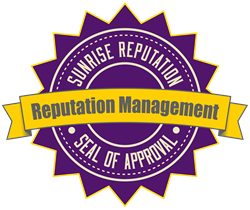 Lowell, Massachusetts (PRWEB) March 16, 2014
Sunrise Reputation is bringing their services to the northeast, announcing the expansion of their services to include the state of Massachusetts. As a part of the expansion, the company is also seeking to educate the people in the state about the potentially devastating effects that a negative online reputation can have. It seems that the company believes that there are still those who do not realize just how far-reaching an impact that information on the Internet can have on an individual.
"It really is shocking to us how many people seem to be unaware of the impact that their reputation is having on them," said Brandon Hopkins of Sunrise Reputation. "We have had clients who have come in to seek our services tell us that they thought they were just suffering from a streak of bad luck before they realized that there was negative information out there."
While there are those that seem to be blissfully aware, there are also those who are keenly aware of the circumstances that are causing them trouble. Sunrise Reputation believes that they have a solution for both parties.
"We understand the impact that negative information can have, and we understand that this information is often inaccurate, outdated or misleading," said Hopkins. "Regardless of the circumstances, we have many methods that we can employ to significantly lessen the impact of this information."
Hopkins noted that while each reputation management campaign is uniquely designed to suit the needs of the individual client, there are several core strategies that the company has found to work exceptionally well. Despite this, the company has never solely relied on a single strategy, nor have they ceased testing their methods.
"One part of our daily routine is to consistently test our methods to ensure that they are working for our clients," said Hopkins. "Everything in our industry is constantly changing, so we must make sure that we are staying current with our methods so that we do not waste any energy on methods that are not effective."
The company is known throughout the reputation management industry for their thorough methods and their ability to innovate.
"Everything that we do is done with the best interest of our clients in mind," said Hopkins. "Helping our clients is our sole purpose."
Sunset Reputation was founded with one goal in mind: helping businesses and individuals clean up and maintain a positive online reputation. Sunset Reputation is an experienced reputation management company that specializes in public relations, marketing, media management, press releases, search engine optimization (SEO) and link building. For more information about Sunset Reputation or how the company can help you with a reputation problem contact them by phone at 559-871-1613, email brandonchopkins(at)gmail(dot)com, or online at SunsetReputation.com.