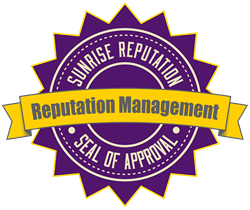 St Louis, Missouri (PRWEB) April 11, 2014
Sunrise Reputation has announced that they will now be offering their reputation management services to businesses and individuals in the state of Missouri. The company specializes in managing the online reputations of individuals or companies that may be experiencing some negativity resulting from false or misleading information posted about them on the Internet.
The new service offerings should greatly interest both businesses and individuals who are suffering from the impact of a negative online reputation. Any party, whether a business or an individual, will be impacted in a very significant way if a negative online reputation is allowed to go unchecked.
"There are plenty of obvious drawbacks to allowing a poor online reputation to remain for anyone to see," said Brandon Hopkins of Sunrise Reputation. "Businesses will have their profitability impacted, while individuals will have their earning potential or even their ability to get a job impacted by the presence of negative online information."
Hopkins was quick to emphasize the importance of acting quickly when it comes to reputation management, noting that any harmful information can have an immediate and long-lasting impact on an individual or a business.
"The longer that a company or an individual waits, the longer they are allowing that negative information to have an impact," said Hopkins. "Every time someone sees that information they are forming an opinion based upon what they read, and negative opinions are very difficult to change once they have taken hold."
Hopkins and his company, Sunrise Reputation, are able to prevent the information that may be available from lingering long enough to have a significant impact. Using a number of different strategies, Sunrise Reputation has been able to help a great deal of their clients maintain a positive reputation despite previous pieces of negative information being available on the Internet.
"We work very hard for our clients," said Hopkins. "We are very well aware of just how difficult it can be to deal with a negative online reputation, and we have seen the impact that this type of information can have. We do not want to see a business harmed by decreased profitability, nor do we want to see any individual have their earning potential negatively impacted. There is action that can be taken."
Sunrise Reputation
Sunrise Reputation was founded with one goal in mind: helping businesses and individuals clean up and maintain a positive online reputation. Sunrise Reputation is an experienced reputation management company that specializes in public relations, marketing, media management, press releases, search engine optimization (SEO) and link building. For more information about Sunrise Reputation or how the company can help you with a reputation problem contact them by phone at 559-871-1613, email brandonchopkins@gmail.com, or online at SunriseReputation.com.