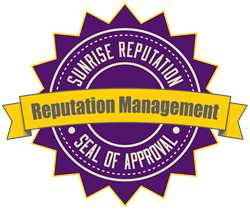 Concord, New Hampshire (PRWEB) April 06, 2014
Sunrise Reputation, a company whose reputation for results is known throughout the reputation management industry, has announced that they will now be offering their highly regarded services to the state of New Hampshire. The company expects that their services will be welcomed in "The Granite State," as there has previously been a great deal of demand from both individuals and businesses residing in New Hampshire.
The services offered by Sunrise Reputation are of particular importance to a broad swath of people who may be suffering from a negative online reputation. Though many individuals and businesses are keenly aware of the information that may be available about them online, very few take corrective action, thereby allowing their reputation to have a significant impact on any number of aspects of their lives or businesses.
"It is impossible to overstate the importance of maintaining a clean online reputation," said Brandon Hopkins of Sunrise Reputation. "There are so many ways that an online reputation can impact individuals and businesses. It is imperative that a negative reputation is taken care of so that any negative impact is minimized or eliminated."
For businesses, Hopkins related that many prospective clients or consumers will first review any online reviews or articles before choosing to use that particular company. Any single piece of negative information will dissuade a potential consumer, impacting the company's profitability in a significant way. For individuals, the same can be said of prospective or even current employers. A simple keyword search through any search engine that returns negative information can impact an individual's earning potential or ability to find work in a very significant way.
"There is too much harm that can result from a negative online reputation," said Hopkins. "This is why we spend so much time testing our current methods to ensure that they will work best for our clients, and why we are continually developing new strategies that may further help our clients."
Hopkins emphasized that every strategy that is employed by the company has been thoroughly tested to ensure that no effort is wasted during a reputation management campaign.
"The stakes are simply too high," said Hopkins. "We test every strategy to make sure that our clients get the best possible services so that they can avoid the devastating impact that a negative online reputation can have."
Sunrise Reputation
Sunrise Reputation was founded with one goal in mind: helping businesses and individuals clean up and maintain a positive online reputation. Sunrise Reputation is an experienced reputation management company that specializes in public relations, marketing, media management, press releases, search engine optimization (SEO) and link building. For more information about Sunrise Reputation or how the company can help you with a reputation problem contact them by phone at 559-871-1613, email brandonchopkins@gmail.com, or online at SunriseReputation.com.