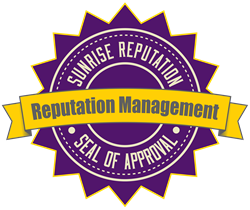 Raleigh, North Carolina (PRWEB) April 02, 2014
Sunrise Reputation has announced that it will be offering a number of new reputation management packages to clients residing in the state of North Carolina. The new service packages have been in development for quite some time, as the company has been focused on customizing their services to meet the very specific reputation management needs of the people and businesses residing in North Carolina.
The new packages, which are available immediately, should allow the company to improve upon its industry-leading reputation management campaigns. For many years, the company has been offering outstanding services that have allowed their previous clients to no longer suffer from the potentially devastating effects of a negative online reputation.
"We are thrilled to announce the new service packages that are now available in the state of North Carolina," said Brandon Hopkins of Sunrise Reputation. "It has always been a goal of ours to offer individualized service packages that are specifically designed with the client's needs in mind. While our services have always been designed with a specific client in mind, these new packages will allow us to reach a whole other level, so to speak."
While the company's track record for success should speak for itself, Hopkins noted that Sunrise Reputation has a history in North Carolina, and they have helped a number of clients in the state on numerous occasions. It is through these experiences that Hopkins and Sunrise Reputation have been able to develop new strategies that are designed to work well in the state.
"We are always trying to learn new things from each and every campaign, and the more experiences we have, the more fine-tuning that we are able to do," said Hopkins. "We have always had a great deal of success, but we are rarely satisfied and we are always striving to be able to do even more for our clients."
Hopkins was quick to note that it is because of the severe impact that an online reputation can have on an individual that has spurred the company to put forth so much effort in support of their clients.
"Knowing just how far-reaching the impact that an online reputation can have on an individual or business has long served as our motivation," said Hopkins. "We want to make every effort to ensure that our clients will no longer have to deal with the impact that inaccurate or misleading information can have."
Sunrise Reputation
Sunrise Reputation was founded with one goal in mind: helping businesses and individuals clean up and maintain a positive online reputation. Sunrise Reputation is an experienced reputation management company that specializes in public relations, marketing, media management, press releases, search engine optimization (SEO) and link building. For more information about Sunrise Reputation or how the company can help you with a reputation problem contact them by phone at 559-871-1613, email brandonchopkins@gmail.com, or online at SunriseReputation.com.