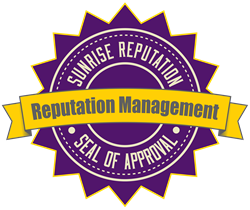 (PRWEB) June 06, 2014
Sunrise Reputation is bringing newly updated and advanced reputation management services to the Oakland area. Individuals and businesses in the Oakland area can now turn to a very trusted and highly respected reputation management firm when they are in need of effective and tested services for rectifying any existing reputation issues. The new and advanced services were created based on the information the company has collected over their many years of experience in the reputation management industry.
Individuals in the Oakland area who have had to endure the presence of a negative online reputation are likely already aware of the potential impact that can result. Reputation issues can result in difficulty in seeking and attaining meaningful employment, which can have very serious financial implications. Of course, it is not only individuals that are impacted financially, as businesses are also greatly impacted by the presence of negative online information that is posted to the Internet. These companies will see their bottom line negatively impacted, as consumers frequently rely on the information they find on the Internet when deciding whether or not to use a company's products or services.
"We are very pleased that we are now able to offer these new and advanced reputation management services in the Oakland area," said Brandon Hopkins of Sunrise Reputation. "We have put a great deal of time and effort into designing these services, and we firmly believe that they will result in incredibly positive outcomes for our clients."
Hopkins went on to emphasize the importance of seeking assistance in managing a negative online reputation, noting that the consequences of allowing a poor online presence to remain can be swift and severe. The company recognizes this fact, and their reputation management services are designed in such a way that they are as expedient as possible. While the company does place significant value on the swiftness of the services, the end result is ultimately the most important aspect of any reputation management campaign.
"We are in the business of helping people overcome the issues that arise due to the presence of a poor online reputation," said Hopkins. "We understand how important it is to rectify this issue, and we will do everything within our power to restore our clients' rightful reputations."
Sunrise Reputation
Sunrise Reputation was founded with one goal in mind: helping businesses and individuals clean up and maintain a positive online reputation. Sunrise Reputation is an experienced reputation management company that specializes in public relations, marketing, media management, press releases, search engine optimization (SEO) and link building. For more information about Sunrise Reputation or how the company can help you with a reputation problem contact them by phone at 559-871-1613, email brandonchopkins(at)gmail.com, or online at SunriseReputation.com.