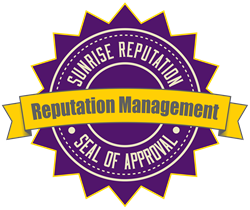 Salem, OR (PRWEB) March 28, 2014
Sunrise Reputation has announced a number of new strategies that will be rolled out in the near future as a part of their noted reputation management services currently available in Oregon. Among these new features include the use of new and improved link building strategies along with more comprehensive testing and evaluation of strategies.
The company has long championed the importance of the use of comprehensive strategies that have been thoroughly tested for efficacy before implementation in a reputation management campaign. Sunrise Reputation believes that this focus is the main reason for the long-term success of their company in matters pertaining to reputation management.
"It is very important to us that we are able to serve our clients in the best way possible, because we know what they are up against with a negative online reputation," said Brandon Hopkins of Sunrise Reputation. "Our clients have to deal with a number of issues relating to their ability to find gainful employment or to earn a fair income. For businesses, a negative online reputation can severely impact their bottom line in a very significant way."
Through the use of testing and evaluation, along with the addition of the new link building strategies now available in Oregon, the company believes that it has a number of effective methods at their disposal, equipping them to combat any type of negative information that may exist online about their clients.
"What we do is very serious, and what our clients have to deal with is very serious as well," said Hopkins. "It is our responsibility to provide an effective safeguard against the impact of negative online information, and this is becoming more and more important each and every day."
Hopkins noted that as the Internet continues to become the information tool that society relies on most, the importance of maintaining a positive online reputation will only continue to grow.
"The Internet is not going away any time soon," said Hopkins. "More individuals and more businesses are getting their information from sources that may not be reliable, and this results in misleading or inaccurate information influencing a reputation in a negative way. Our strategies are designed to help our clients avoid the negatives that they may experience if their negative reputation were to remain in place."