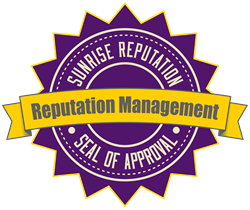 (PRWEB) July 27, 2014
Sunrise Reputation has announced that they are now offering a variety of new reputation management services in the Pittsburgh area. The new services, which include specialized services designed for businesses in particular, should allow companies in need of reputation management services to be able to benefit from a reputation management campaign in a manner that is faster than ever before.
While the company's new business services are billed as being significantly more expedient than ever, Sunrise Reputation has also ensured that the new services live up to the very high quality standards that they have set for all of their services. The company, which is known for being incredibly thorough and effective, has spent a great deal of time conducting research and development in order to ensure that their services remain highly effective in terms of the results they are able to yield.
The company spends a great deal of time on research and development due to an understanding of what their clients must go through when faced with a poor online presence. According to the company, it is very easy for an individual to have trouble securing or maintaining employment if there is negative information available online. Businesses suffer similar financial distress, as many potential consumers will seek a similar business to patronize if they find any negative information on the Internet.
"The consequences can be quite severe, and time can be a very important factor in some cases," said Brandon Hopkins of Sunrise Reputation. "This is why we are very excited to introduce these new and more expedient services in the Pittsburgh area. We believe that our service offerings will continue to yield great results for our clients quickly and efficiently."
The need for businesses to take advantage of services such as these when faced with a poor online presence should be clear. There is too much at stake in matters of business, and it is far too risky to allow inaccurate and misleading information to remain available online. With the speedy services that Sunrise Reputation offers, it is possible for individuals and businesses to recover quickly from a negative online reputation.
Sunrise Reputation
Sunrise Reputation was founded with one goal in mind: helping businesses and individuals clean up and maintain a positive online reputation. Sunrise Reputation is an experienced reputation management company that specializes in public relations, marketing, media management, press releases, search engine optimization (SEO) and link building. For more information about Sunrise Reputation or how the company can help you with a reputation problem contact them by phone at 559-871-1613, email brandonchopkins(at)gmail(dot)com, or online at SunriseReputation.com.