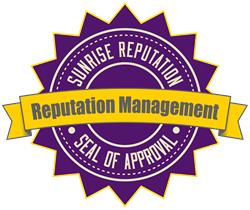 Portland, Oregon (PRWEB) May 19, 2014
Sunrise Reputation, a highly regarded reputation management firm, has announced that they have made several upgrades to the services they currently offer in the Portland area. The upgrades come amid increasing demand for the firm's services throughout the Pacific Northwest, and the firm has decided to meet this demand through the upgraded services that are now available.
While the company has a long history of offering services that are specifically tailored to the client with whom they are working, some of the upgrades include services that are specifically designed for professionals that are employed in certain positions. These new services enable the company to offer a reputation management campaign that is even more individualized than ever before, allowing clients to achieve a positive outcome in a quick and efficient manner.
"We have always believed in offering services that are very client-centric," said Brandon Hopkins of Sunrise Reputation. "Ultimately, our goal is always to achieve the best possible result for our clients, and we believe that these service upgrades will help us in realizing that goal."
The firm has been a very strong advocate for their clients for many years now, and they seen the impact that information that is unfairly posted to the Internet can have. It is frequently the case that inaccurate, misleading and outdated information is allowed to have a significantly negative impact on their clients, both personally and professionally. Having dealt with these issues on a frequent basis for many years, Sunrise Reputation has developed very specific strategies for a wide variety of clients, each of which is uniquely tailored to the client's individual circumstances.
"It is vital that we offer services that are customized to meet the needs of each one of our clients," said Hopkins. "We go to great lengths to ensure that our services are efficient and effective, and personalizing these services is just one way that we can achieve that."
Indeed, the firm also spends a great deal of time on research and development. This time often yields newer and more effective strategies for use in reputation management campaigns, strategies that allow their clients to greatly benefit from their services.
Sunrise Reputation
Sunrise Reputation was founded with one goal in mind: helping businesses and individuals clean up and maintain a positive online reputation. Sunrise Reputation is an experienced reputation management company that specializes in public relations, marketing, media management, press releases, search engine optimization (SEO) and link building. For more information about Sunrise Reputation or how the company can help you with a reputation problem contact them by phone at 559-871-1613, email brandonchopkins(at)gmail(dot)com, or online at SunriseReputation.com.