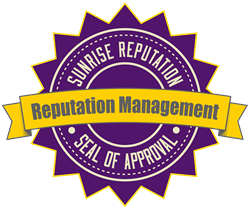 (PRWEB) October 02, 2014
Sunrise Reputation, an online reputation management firm and SEO company, was recently listed on TopSEOs.com. The site independently ranks reputation management and SEO companies from across the world according to each company's respective abilities with regard to achieving favorable outcomes for clients. Sunrise Reputation is highly respected as a leader in the reputation management industry, a notion reflected by the fact that TopSEOs.com now has the firm prominently listed on its site.
"We are very pleased to be listed on TopSEOs.com and believe that this is a result of our constant efforts in working to achieve the best possible result for our clients," said Brandon Hopkins of Sunrise Reputation. "While this is very gratifying for us, our focus remains on consistently meeting the needs of our clients."
Sunrise Reputation has a broad range of services with the goal of meeting the diverse needs of its client base. The firm is known for its attention to detail, particularly when it comes to developing a reputation management campaign. According to Hopkins, it is necessary for the company to tailor its services to the unique needs of its clients in order to deliver results that are beyond the expectations of the client.
The reputation management firm represents all manner of clients, including businesses and individuals. Hopkins noted the importance of maintaining a clean online reputation, as any negative information that is allowed to persist on the Internet can cause a great deal of damage.
With regard to individuals, Hopkins noted that the impact of a poor online reputation is pervasive. Individuals may find that their employment opportunities are minimized, while those who are already employed may find it difficult to maintain employment. These issues extend into the social lives of these individuals, as many judgments are made based on the information available online.
For businesses, it is very likely that a negative online reputation results in an unwanted financial consequence. Profitability is often affected and the long-term viability of a business can easily be called into question due to the presence of a poor online presence. It is due to these factors and many others that Hopkins believes swift corrective action is a necessary step when a negative reputation emerges.