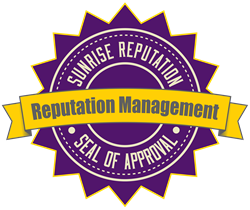 (PRWEB) April 25, 2014
Sunrise Reputation has been known to take advantage of every opportunity they are presented with if it means that the company will be able to better serve their clients in some way. In keeping with this, the company has announced that they have installed and are already utilizing additional servers that are in place specifically to assist the company as they expand their services to the state of Vermont.
The company offers a number of comprehensive service options to customers who are in need of help due to the presence of a poor online reputation. These options are used as a part of a reputation management campaign that is put into place by Sunrise Reputation with the goal of creating a positive online presence to replace the negative one.
"We are very excited that the new servers are in place and fully operational," said Brandon Hopkins of Sunrise Reputation. "These new servers will allow us to streamline a number of our daily tasks, making the process of initializing a reputation management campaign in Vermont that much easier."
Hopkins was quick to point out that the servers would not just make their jobs easier, as the company will make use of the servers as a means to conduct additional research and evaluation as they seek out new and improved methods for reputation management.
"Anything that we can do to better serve our clients, we are all for it," said Hopkins. "Having been in the business for a long time, I can tell you firsthand how serious an impact an online reputation can have. I have spoken with clients who have been impacted in every single facet of their daily lives, and it was not until they used a reputation management campaign that they were able to return to a sense of normalcy."
The new servers are now in place, and Hopkins, along with Sunrise Reputation, is hopeful that their clients in Vermont will experience even better service than before.
"We are never really satisfied," said Hopkins. "While our reputation management campaigns have been extremely successful for our clients, we also understand that the industry is constantly changing, and it is our duty to keep pace with those changes so we can continue to deliver the best results possible for our clients."
Sunrise Reputation
Sunrise Reputation was founded with one goal in mind: helping businesses and individuals clean up and maintain a positive online reputation. Sunrise Reputation is an experienced reputation management company that specializes in public relations, marketing, media management, press releases, search engine optimization (SEO) and link building. For more information about Sunrise Reputation or how the company can help you with a reputation problem contact them by phone at 559-871-1613, email brandonchopkins@gmail.com, or online at SunriseReputation.com.