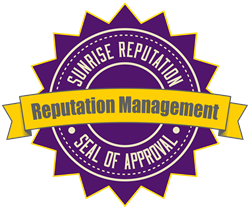 (PRWEB) May 29, 2014
Sunrise Reputation, one of the most experienced and respected reputation management firms in the industry, has announced the expansion of their services in the Virginia Beach area. The services provided by the company, which are now available in Virginia Beach and the surrounding area, have been known to be exceptionally effective for clients who are dealing with the unfortunately significant impact of a poor online reputation.
The service expansion allows residents of the Virginia Beach area to benefit from Sunrise Reputation's skill and experience in handling effective reputation management campaigns. This is a very noteworthy aspect, especially given the rising demand for reputation management services in Virginia Beach and the surrounding area.
"This service expansion in Virginia Beach is very exciting for us," said Brandon Hopkins of Sunrise Reputation. "We are always very pleased to offer expanded services to clients who are in need of reputation management, and we have a very strong history of success in using these campaigns."
The company has long had a presence in the Virginia Beach area, and they have worked on reputation management campaigns for a number of clients in the area in the past. The expansion brings a full range of services to residents of the area, and the company will be able to continue to serve their clients in a manner that is not only effective, but that is also exceptionally fast as well.
"We firmly believe in the importance of efficacy and expediency," said Hopkins. "Given the nature of the impact that a negative reputation can have, both of these aspects of our services are incredibly important to our clients. It is for this reason that we spend so much time perfecting and fine-tuning the services that will be used in any reputation management campaign."
While Hopkins noted that even long-standing information can be helped through the use of a reputation management campaign, he stressed the importance of seeking help as soon as possible. Taking quick corrective action reduces the potential impact that the information can have on an individual or business, which is why Sunrise Reputation goes to such great lengths to perfect the expediency of the services that they offer their clients.
Sunrise Reputation
Sunrise Reputation was founded with one goal in mind: helping businesses and individuals clean up and maintain a positive online reputation. Sunrise Reputation is an experienced reputation management company that specializes in public relations, marketing, media management, press releases, search engine optimization (SEO) and link building. For more information about Sunrise Reputation or how the company can help you with a reputation problem contact them by phone at 559-871-1613, email brandonchopkins(at)gmail(dot)com, or online at SunriseReputation.com.